MARK R. HENRY, MIKE CHAPPELL
THE US ARMY IN WORLD WAR II. THE PACIFIC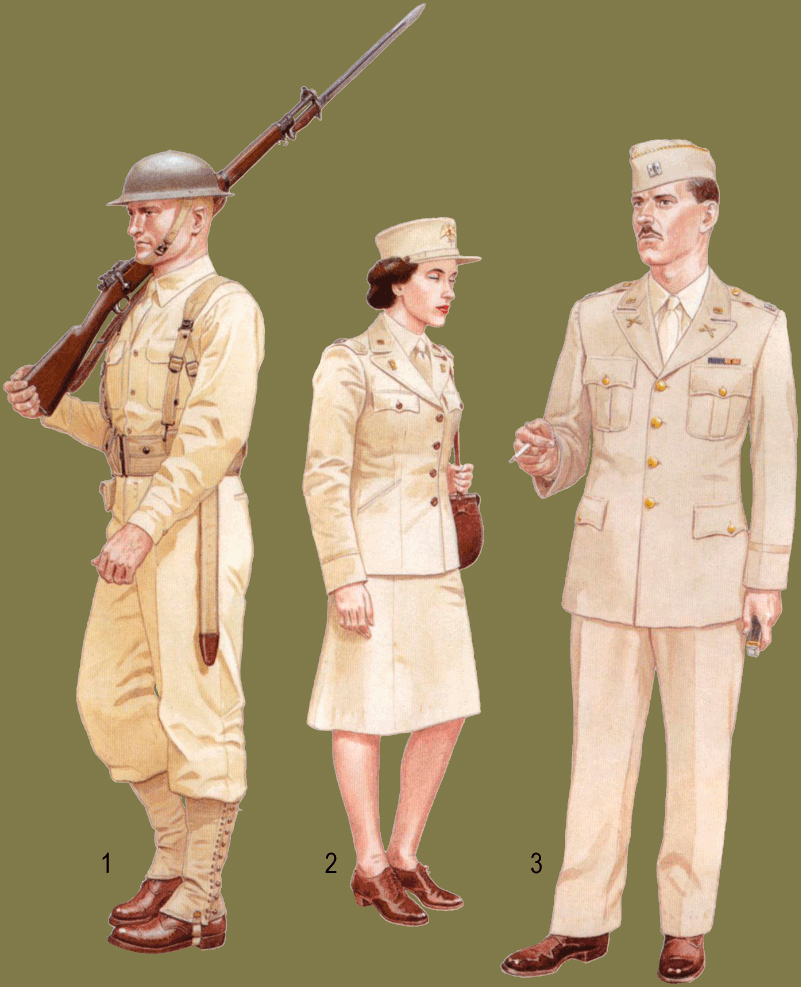 1: Private, Infantry, 1942
This soldier on sentry duty still awaits the issue of the new M1 helmet and M1 Garand rifle; he is also wearing a cavalry pattern cartridge belt, identified by its missing pouch on the front - pistol-armed horsemen used this spot to mount their two-magazine .45 pouch. Note the long World War I bayonet scabbard covered with canvas and leather. Brass tunic collar disks bearing 'US' and branch symbols were to be worn on the right and left shirt collar points respectively in 1942, but this order was soon rescinded. His tie is worn tucked into the shirt, as would be required throughout the war. In the autumn this man would revert to wearing the normal dark brown drab wool uniform. When he is issued with a new M1 helmet and Garand it will almost certainly mean that his unit is about to go overseas.
2: Captain (equivalent), Women's Army Auxiliary Corps, 1943
This officer, depicted immediately before the full incorporation of this organisation into the US Army as the Women's Army Corps, wears the first pattern officers' khaki cotton tunic; this was also available in gaberdine, similar to the male officer's khaki service tunic. The WAAC uniform design was a compromise; suggestions were requested from a number of leading civilian designers, but the final choice was predictably a 'committee compromise'. Note the unusual transverse shoulder straps, soon to be replaced by epaulettes - these bear metal rank insignia; the false breast pockets, and slash waist pockets; 'US' above branch badges on the collars and lapels; the issue shoulder bag, rayon stockings, and brown Oxford shoes. The hat was unofficially named after the female commander of the WAAC/WAC, Col (Director) Oveta Culp Hobby; here it still bears the WAAC's 'walking buzzard', soon to be replaced by the US Army officer's universal eagle badge.
3: Captain, Field Artillery, 1943
Khaki coats and hats were used prewar but they were made of a moderately heavy cotton; in 1942 a slightly synthetic- looking gaberdine was also authorised for use in these coats. This coat and matching trousers would remain the standard until well after World War II. The single stripe of slightly contrasting cuff braid was the mark of officer status for all commissioned ranks. A khaki version of the conventional visored officer's service dress cap was also authorised, but this captain wears the khaki overseas cap, trimmed with mixed gold/black piping on the upper and front edge of the curtain; rank is worn at the front left. The national cypher is worn above branch insignia on the collar points and lapels; the latter sometimes displayed unit numbers, but these were not commonly available. His ribbons represent the American Campaign Medal and the Asiatic-Pacific Medal; the bronze fixture on the latter is a 'battle' star for service in New Guinea or on Guadalcanal.

We have much more interesting information on this site.
Click MENU to check it out!
∎ cartalana.com© 2013-2017 ∎ mailto: koshka@cartalana.org