SITE MENU
Use search function please. All the info found with Ł - refers to this site
MARK R. HENRY, MIKE CHAPPELL
THE US ARMY IN WORLD WAR II. THE PACIFIC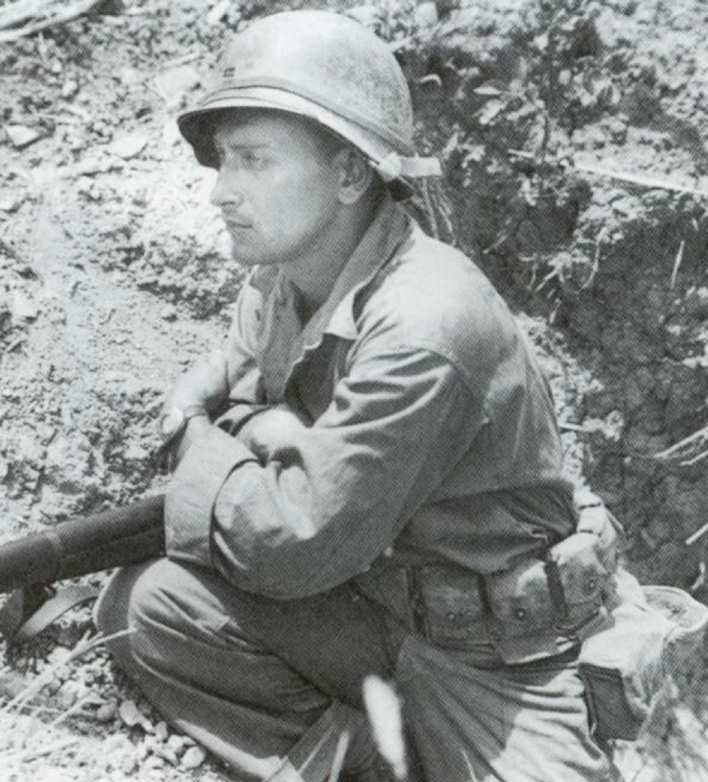 Okinawa, 1945: this veteran infantryman from the 96th Division is - typically - as lightly equipped for combat as possible. He has only his rifle, a cartridge belt, a first aid pouch and an (empty) canteen carrier visible; he might add a poncho and a grenade.
Wounds and serious diseases played a smaller part in the day-to-day miseries of the average GI than the results of the generally unhealthy environment. In the Pacific minor cuts, abrasions and insect bites rapidly became infected and often refused to heal without lengthy treatment. The chafing of constantly wet clothing caused widespread fungal skin diseases and ulcerations - generically called 'jungle rot'. Another medical problem not to be underestimated in the Pacific was simple heatstroke caused by high temperatures and extreme humidity.
As the Japanese gave priority to attacking aid stations and killing medics, the latter wore no red cross markings and commonly went armed. Aborigines in the South-West Pacific gave yeoman service in moving the wounded to the rear areas. Chaplains were also commonly to be found serving alongside medics.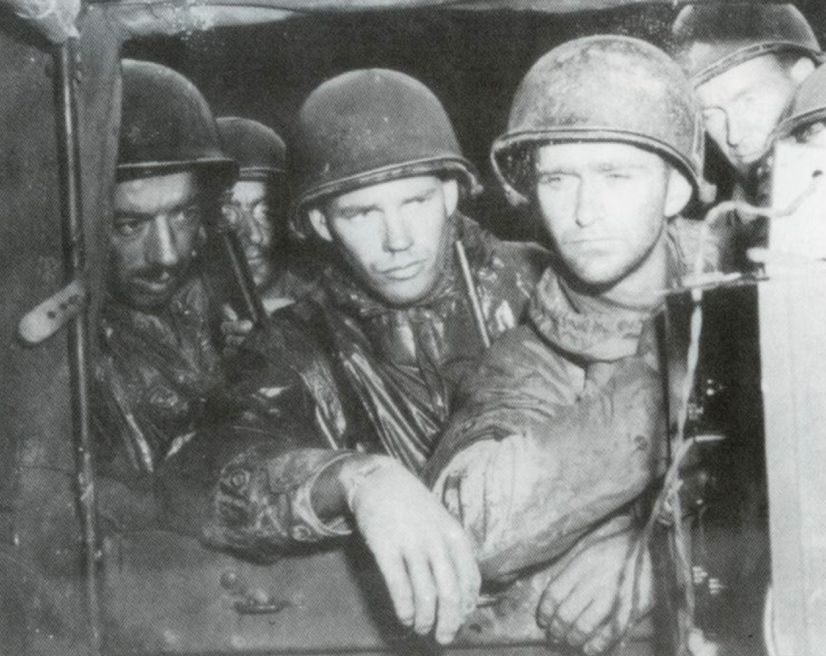 Okinawa, May 1945: clustered round a jeep radio, weary GIs of the 77th Division - note marking on side of helmet, and see Plate G - hear the news of the German surrender. Against the rain they wear the poncho, with its 'turtleneck' drawstring closure - see Plate C. For the men of the 'forgotten armies' in the Far East the war is emphatically not over yet.
(In the European theatre German troops generally did not fire deliberately on medical personnel. It was thus in the interests of stretcher bearers and medics to be distinguished in combat by the wearing of the red cross armband, and red cross markings on white disks or other shapes on their helmets.)
DIVISIONAL CAMPAIGN SERVICE and shoulder patches

6th Infantry Division ('Sight-seeing Sixth'). New Guinea, Philippines. Red six-point star.



7th Infantry Division ('Hourglass'). Attu, Kwajalein, Leyte, Okinawa. Black diabolo on red disk.



11th Airborne Division ('Angels'). Leyte, Manila, Cavite (Philippines). Blue shield under blue AIRBORNE arc; white winged circle surrounding red disk with white '11'.



23rd Infantry Division ('Americal'). Guadalcanal, Bougainville, Cebu (Philippines). Southern Cross in white stars on blue shield.



24th Infantry Division ('Victory'). New Guinea, Philippines. Green taro leaf edged yellow, on red disk edged black.



25th Infantry Division ('Tropical Lightning'). Guadalcanal, New Georgia, Philippines. Yellow lightning bolt on red taro leaf edged yellow.



27th Infantry Division ('New York'). Makin, Eniwetok, Saipan, Okinawa. Red 'NY' monogram and stars of constellation Orion, all on black disk.



31st Infantry Division ('Dixie'). Philippines. Two opposed red 'Ds' in red circle, all on white disk.



32nd Infantry Division ('Red Arrow'). New Guinea, Leyte. Upright red arrow with short horizontal crossbar.



33rd Infantry Division ('Prairie'). Northern Luzon. Yellow cross on dark blue disk.



37th Infantry Division ('Buckeyes'). Munda (New Georgia), Bougainville, Lingayen Gulf, Manila. Red disk edged white.



38th Infantry Division ('Cyclone'). Bataan. White 'CY' monogram on shield halved blue (left) and red (right).



40th Infantry Division ('Grizzly'). Admiralties, Philippines. Yellow sunburst on dark blue diamond.



41st Infantry Division ('Sunset'). New Guinea, Marshalls, Mindanao, Palawan (Philippines). Yellow sun sinking into blue horizon against red sky.



43rd Infantry Division ('Red Wing'). New Georgia, New Guinea. Luzon. Black grape leaf on red quatrefoil.



77th Infantry Division ('Liberty'). Guam, Leyte, Okinawa. Yellow Statue of Liberty on dark blue tapered quadrilateral.



81st Infantry Division ('Wildcat'). Angaur, Peleliu, Ulithi. Black cat facing left on khaki disk edged black.



93rd Infantry Division ('Bloody Hand'). Bougainville, SW Pacific, Philippines. Horizon-blue Adrian helmet on black disk.



96th Infantry Division ('Deadeyes'). Leyte, Okinawa. Blue diamond overlapping white diamond, all on horizontal khaki hexagon.



1st Cavalry Division (The First Team'). New Britain, Admiralties, Philippines. Black horsehead and diagonal stripe on yellow shield.
On 1 April 1945 the 10th Army landed four divisions on the 65-mile4ong island of Okinawa, unopposed. Waiting in the hilly southern region were about 100,000 entrenched Japanese troops. Besides the 1st and 6th Marine Divisions, the 10th Army deployed the 7th, 27th, 77th and 96th Divisions. The US Navy fired over 600,000 large calibre shells in support. Southern Okinawa was taken yard by yard by riflemen, tanks and flamethrowers; the fighting was as savagely intense as in any previous island battle, and involved many more men on both sides, for longer - Okinawa did not finally fall until 21 June. With ferocious kamikaze attacks on the supporting fleet, Okinawa overall cost the US forces 50,000 casualties.
The US commitment to this theatre was in aircraft and logistics. Road- building by US Army Corps of Engineers and a massive aerial supply operation proved critical in supporting the Chinese war effort, and air support was extremely valuable to the British/Indian forces. Besides advisors and small units deployed to help the forming Chinese Army, the only US combat unit in the CBI was the 3,000-man 5307th Provisional Unit (known at various dates as 'Galahad', 'Merrill's Marauders', and 'Mars Task Force'). This was deployed to Burma in 1944, and helped British/Indian units seize the strategic airfield at Myitkyina.


/ page 17 from 25 /

mobile version of the page
We have much more interesting information on this site.
Click MENU to check it out!
∎ cartalana.com© 2013-2018 ∎ mailto: koshka@cartalana.org