KEVIN LYLES
VIETNAM: US UNIFORMS IN COLOUR PHOTOGRAPHS
PATHFINDER, 1ST AVIATION BRIGADE

The role of the pathfinder in Vietnam was adapted to suit a combat environment largely dependent on the use of helicopters. Pathfinders were used to select and establish landing and drop zones, and to provide ground-to-air communications to furnish Army aircraft with ground tactical information. Other jobs undertaken by the pathfinders included rappelling in to clear landing zones, securing downed aircraft and rigging them for extraction, as well as guiding and co-ordinating helicopter and fixed-wing re-supply airdrops.
The organization of pathfinders in Vietnam was flexible, the basis being the four-man team. On average three teams would make up a pathfinder detachment, which would be attached to an aviation unit as needed. Though they had their own designations these detachments were usually known by that of the unit they served - e.g. 1st Aviation Detachment (Pathfinder). The Army ran a five-week course at Fort Benning during which all relevant pathfinder-related techniques were taught. Students were all airborne-qualified volunteers, and would additionally be authorized to wear the distinctive pathfinder qualification pocket patch upon graduation.
On the left sleeve of the ERDL pattern tropical coat is the SSI of the 1st Aviation Brigade together with an airborne qualification tab. The 1st Aviation Brigade was established in 1966 to command all non-divisional aviation units in Vietnam. A locally-made, partly subdued pathfinder pocket patch is just visible on the left breast pocket. An ERDL pattern boonie hat is stuffed into the trouser cargo pocket.
Tropical combat boots are the improved 1966 version which featured a spike-resistant insole and a 'Panama' pattern tread, the latter intended to prevent heavy build-up of mud between cleats.
Personal equipment is the M1956 LCE - belt, suspenders, canteens, and two M16 ammunition cases with M26 fragmentation grenades attached.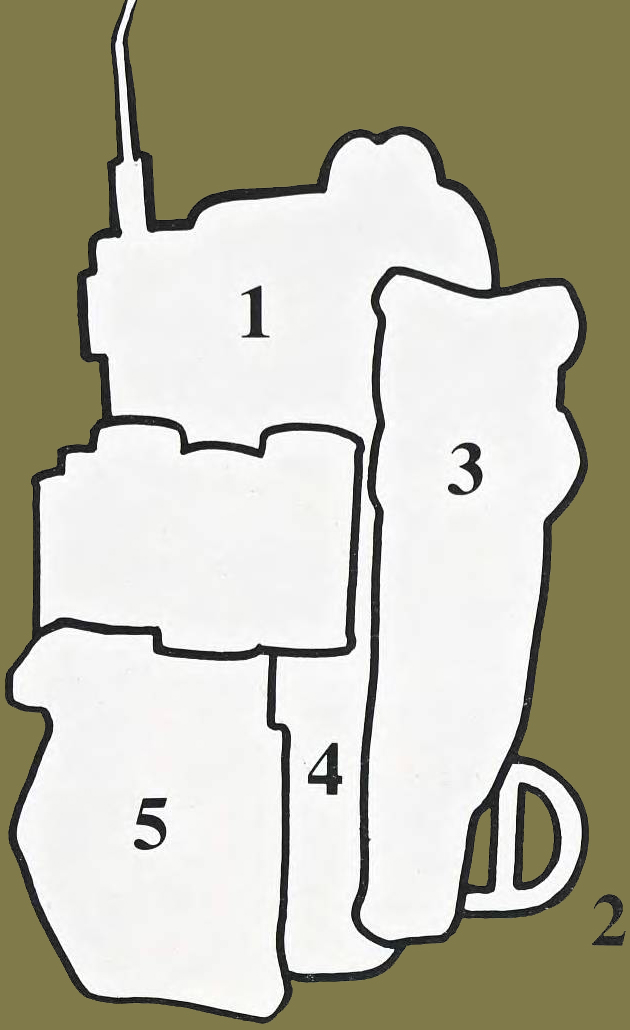 A lensatic compass is carried in its case clipped to the left shoulder of the suspenders. A pair of 'sun, wind, dust goggles' are hung from one of the ammunition pouches on the belt.
The PRC-25 radio (1) is being carried on the tubular aluminium frame of the lightweight rucksack (2). The bag containing the spare antenna and handset (3) is attached to the frame, as are a selection of signalling grenades. A butt pack (4) is strapped below the radio, and a five-quart collapsible canteen/bladder (5) is tied to this. The headset with integral boom-type microphone is part of the 'hands-free' system which eliminates the need for a handset. The unit that houses the transmit selection switch (featuring intermittent or continuous 'talk' modes) is suspended on the chest by a neck harness.
The XM177 or CAR-15 (Colt Automatic Rifle) was the sub-machine gun version of the M16. Being shorter and lighter, with a telescopic buttstock, the CAR-15 was favoured by reconnaissance-type personnel. Two 20-round magazines are typically taped end to end for rapid reloading.

We have much more interesting information on this site.
Click MENU to check it out!
∎ cartalana.com© 2013-2017 ∎ mailto: koshka@cartalana.com