KEVIN LYLES
VIETNAM: US UNIFORMS IN COLOUR PHOTOGRAPHS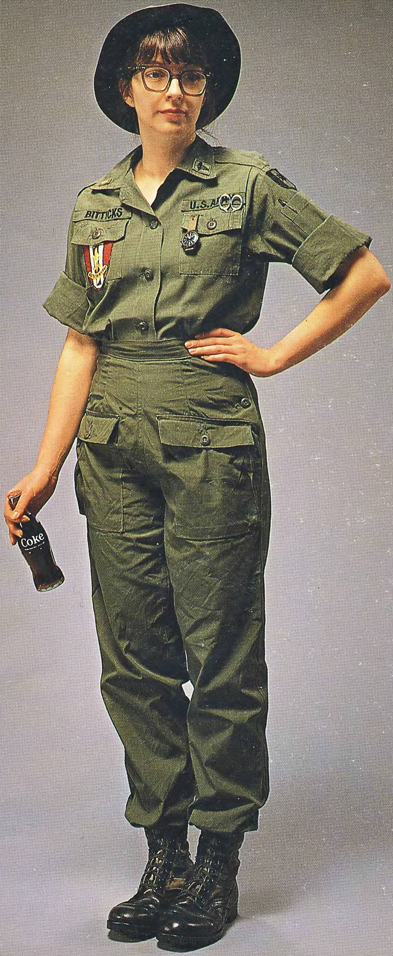 Almost 10,000 women served in Vietnam, the majority of them in the medical services. Most of these women worked in the various surgical and evacuation hospitals that were established throughout the country. These establishments were often little more than a collection of prefab 'Quonset' huts and wooden buildings housing the wards, operating rooms, X-ray and pharmacy facilities.
In 1966 the 44th Medical Brigade was activated to control all such medical assets in Vietnam, and was under the operational control of the 1st Logistical Command. In 1967 the 44th was made an independent unit under USARV. The 91st Evacuation Hospital arrived in Vietnam in December 1966 and was fully operational by March 1967. The 91st Evac. was a semi-mobile unit which prepared all classes of casualty for evacuation to either Japan or the USA. In 1969 the 91st Evac. was part of the 67th Medical Group at Chu Lai, operating a 325-bed facility. The hospital team at the 91st Evac. were a link in the chain of medical care that started with the medic in the field and then on via the 'Dust-Off pilot to the field hospital and eventually to the USA via Japan. The speed and quality of this medical attention was such that the percentage of deaths among wounded admitted to in-country hospital facilities was only 2.6 in Vietnam, compared to 4.5 in World War 2.
In 1969 the Hot Weather Field Uniform was introduced as the main female duty uniform in Vietnam. The cotton-poplin shirt and slacks were comparable to the men's tropical combat uniform. The hot weather field shirt featured shoulder straps, a sleeve pocket and breast pockets with slits for pens, medical instruments, etc. The shirt could be worn loose outside the slacks or tucked in as here. The slacks were of a side-closure style with three buttons on either hip. Two large bellows-type pockets were placed on the upper thighs.
Insignia worn on the shirt include rank (Second Lieutenant) and branch (Medical) on the right and left collar points. The subdued SSI on the left shoulder is that of the 44th Medical Brigade. The pocket patch is that of the 91st Evacuation Hospital, an example of locally-made unofficial insignia. Most of these pocket patches were based to some degree on the design of the unit's official insignia, usually with an appropriate legend - here, 'Aid to the Wounded'. The colours of this example reflect those of the 44th Brigade's SSL
The headgear officially worn with this uniform was the utility cap, though most female personnel opted for the boonie hat, as here. (Some senior MACV officers who took a violent dislike to the boonie hat's 'unmilitary' appearance actually encouraged its wear by females in the vain hope that this might diminish its acceptability among male soldiers.)

We have much more interesting information on this site.
Click MENU to check it out!
∎ cartalana.com© 2013-2017 ∎ mailto: koshka@cartalana.com