SITE MENU
Use search function please. All the info found with Ł - refers to this site
KEVIN LYLES
VIETNAM: US UNIFORMS IN COLOUR PHOTOGRAPHS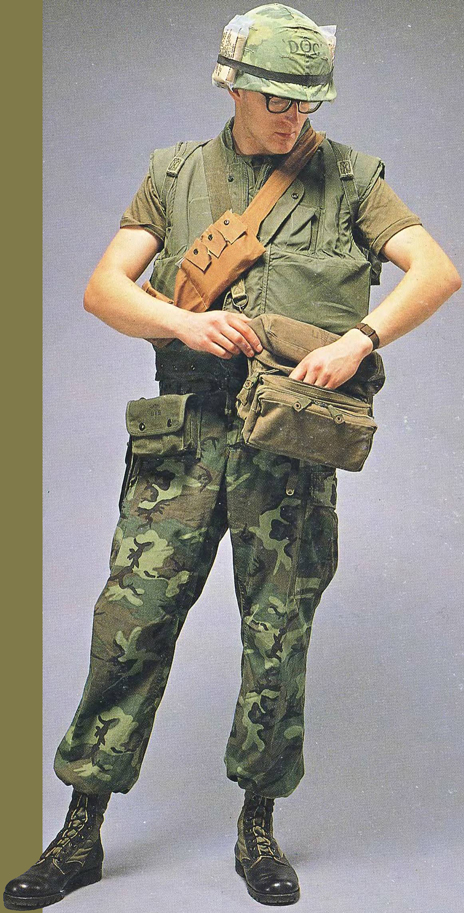 The Navy furnished the Marine Corps with medical corpsmen who were assigned to Marine line companies throughout Vietnam. These sailors were dressed and equipped in exactly the same manner as the Marines they accompanied, and shared all the burdens and dangers of the combat Marine's lifestyle. The corpsman was expected to deal with the day-today medical care of his Marines as well as the life-saving procedures for those wounded by enemy action. The mundane tasks would include the distribution of anti-malaria pills and the treatment of cuts, bruises and blisters as well as an assortment of complaints associated with living in an inhospitable environment. Another aspect of the Navy Corpsman's job was the 'Medcap' programme, an integral part of the 'hearts and minds' concept. The medcap team - a corpsman, with a number of riflemen as security - would set up in a Vietnamese 'ville' or hamlet and dispense medical care to the inhabitants. Ailments ranging from infections to dental decay requiring surgery were all treated by the corpsman, using the contents of his medical aid bag.
The Navy Corpsman regarded his own particular squad or platoon as his private practice, and in return was highly regarded by the Marines who relied on his knowledge as well as his courage. In common with Army medics,
Navy Corpsmen were universally referred to as 'Doc'.
The rubber retaining band on the helmet holds two medium size field dressings or pressure bandages in their waterproof plastic covers. A combination of ERDL pattern tropical trousers and an olive drab T-shirt under the M1955 body armour was typical Marine field dress in the summer months of 1969.
On the pistol belt are worn a Marine jungle first aid kit, a number of canteens, and a .45 auto pistol in its holster for personal protection. The bandolier is that issued for the 40mm M79 grenade launcher rounds, and is here being used to carry additional field dressings.
The pack worn here is the nylon version of the M1941 haversack. The canvas portion of the pack was replaced by an olive drab nylon duck fabric, though the various webbing straps are as per the original. These nylon haversacks saw limited issue from 1969 onwards. Attached to the pack are a folding E-tool in its M1943 carrier and a folded rubberized rain poncho.
The corpsman's primary tool was his medical instrument and supply set or 'unit one' medic bag. The example shown here is a late 1950s contract bag in heavy canvas; after 1968 the material was changed to a rubberized cotton cloth. The contents of the bag would vary according to mission necessity. Typical contents would include different sizes of dressings and bandages, a basic instrument set, blood volume expanders, aspirin and anti-malaria tablets, bacitracin and tetracaine ointments.


/ page 33 from 46 /

mobile version of the page
We have much more interesting information on this site.
Click MENU to check it out!
∎ cartalana.com© 2013-2018 ∎ mailto: koshka@cartalana.org