SITE MENU
Use search function please. All the info found with Ł - refers to this site
KEVIN LYLES
VIETNAM: US UNIFORMS IN COLOUR PHOTOGRAPHS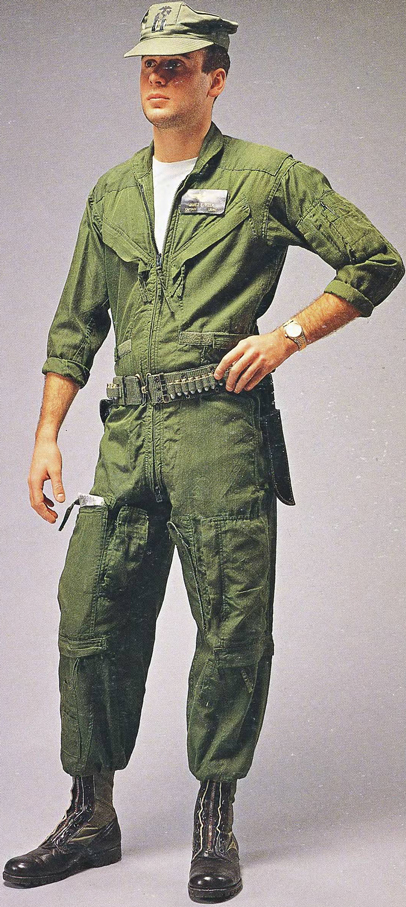 Marine helicopter crews were among the first Americans to arrive in Vietnam when Marine Helicopter Squadron HMM-362 was deployed to Soc Trang in 1962. This initial Marine aviation element was known as Operation 'Shufly', and for the next two years would fly in support of ARVN and VNMC units. Following the 9th Marine Expeditionary Brigade's landings in 1965 there followed a steady build-up of Marine helicopter assets. During the subsequent years Marine helicopter squadrons would operate every type of aircraft in service, from the venerable piston-engined UH-34s of the 'Shufly' era to AH-1G Cobra gunships in 1969. In the early morning of 30 April 1975 several Marine CH-46s landed on the roof of the US Embassy in Saigon to evacuate the Ambassador, his staff and Marine guards. The previous day a CH-46 of HMM-365 crashed into the sea while flying refugees onto the USS Hancock; two crew members were saved but both the pilot and co-pilot were lost - the last official casualties of the Vietnam War.
Marine aviation personnel were largely equipped from US Navy supply sources.
During the 'Shufly' period helicopter pilots wore Navy tan flying coveralls and a jet pilots' flight helmet adapted for use with the helicopter's internal communications. In 1967 the Corps introduced the CS-FRP-1 Coveralls, Flying, Summer, Fire-Resistant, Poly amide especially for helicopter aircrews. The fabric used was Nomex, a new polyamide fibre which was permanently fire-resistant (the old cotton coveralls had to be re-treated after several washes). Sleeves were intended to be worn down, thus maximizing fire protection, though this was often ignored as the new fabric was felt by some to be hot and uncomfortable. The coveralls featured a neck-to-crotch zip fastener, and could be adjusted around the waist by two Velcro tightening tabs. A series of pockets on chest and thighs closed with concealed zip fasteners. As was common to most flightsuits, a pocket sewn to the inside left thigh contained a tightly folded emergency air marker panel of high visibility orange silk. A leather patch is attached to a Velcro strip on the left chest, bearing the individual's name and rank and the wings of a Navy/Marine aviator.
On the Marine Corps utility cap is affixed Captain's rank insignia. Unlike the US Army, all Marine Corps pilots were commissioned officers. The M1956 belt has been modified with additional cartridge loops holding rounds for the .45 cal. auto pistol carried for personal protection. A K-Bar knife is also worn on the belt as a survival aid.
The lace-in zip closures of the tropical combat boots were a typical affectation of aircrews.


/ page 31 from 46 /

mobile version of the page
We have much more interesting information on this site.
Click MENU to check it out!
∎ cartalana.com© 2013-2018 ∎ mailto: koshka@cartalana.org