SITE MENU
Use search function please. All the info found with Ł - refers to this site
KEVIN LYLES
VIETNAM: US UNIFORMS IN COLOUR PHOTOGRAPHS
RECON MARINE, 3RD FORCE RECONNAISSANCE COMPANY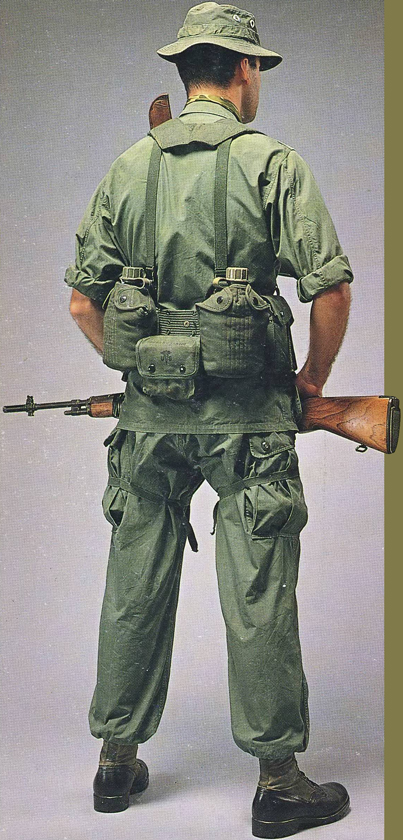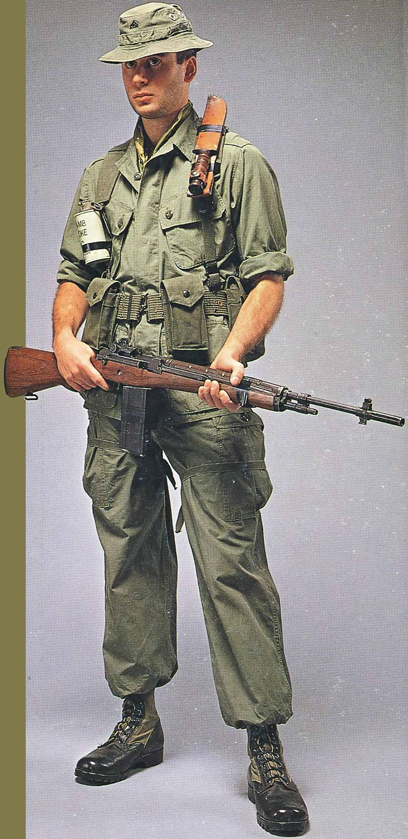 Not to be confused with the more conventional Divisional Reconnaissance Battalions, 'Force Recon' was established to provide the Fleet Marine Forces (FMF) with a reconnaissance asset. The 3rd Force Reconnaissance Company was activated in November 1965 and assigned to III Marine Amphibious Force (III MAF) in Vietnam. Force Recon companies were basically LRRP units, undertaking similar reconnaissance and surveillance missions. Considered an elite within a Corps that already considered itself to be an elite force, Recon team members were additionally trained in amphibious and small boat tactics. All Force Recon Marines were also airborne-qualified (Divisional Recon Battalion personnel were not), and made the first-ever Marine combat jump on 14 June 1966 into the Tri-border area of Vietnam, Cambodia and Laos. Force Recons are also believed to have evaluated sites on the North Vietnamese coastline for possible amphibious assault.
Headgear is a locally-produced short-brim J. A. boonie hat popular with Recon Marines, as were other types of 'soft cover'. Issue boonie hats and utility caps were worn alongside Vietnamese-made examples; occasionally camouflage helmet covers were fashioned into crude berets. A blackened metal Corporal's rank device is pinned to the front of the hat.
The first pattern tropical combat uniform is worn with first pattern tropical boots. The tie-down tapes in the pockets of the trousers are shown here correctly secured around the thighs. The scarf/sweatrag is fashioned from a piece of camouflage parachute silk and was commonly worn to reduce chafing to the neck by a sweat-soaked collar.
Many Marines, especially those in Recon units, were aware of the superiority of the Army's M1956 LCE over their own web gear. Probably the most sought-after item was the H-harness or suspenders and many Marines managed to acquire a set, here supporting an M1961 ammunition belt. On the belt are worn four M1961 ammunition pouches, two M1943 canteen carriers, and a Marine jungle first aid kit centred at the rear of the belt. The olive drab plastic one-quart canteens were also sought-after by Marines and would eventually replace the aluminium type. On the suspender is taped a 'K-Bar' utility/fighting knife in a period dark brown leather sheath. Hung on the side is an AN/M8 signalling grenade, which produced a dense white smoke for signalling and screening.
The 7.62mm M14 rifle has its sling removed and the front swivel taped to ensure silence. Two 20-round magazines are taped end to end so that with a flick of the wrist the second magazine can be loaded - in effect, a 40-round magazine.


/ page 17 from 46 /

mobile version of the page
We have much more interesting information on this site.
Click MENU to check it out!
∎ cartalana.com© 2013-2018 ∎ mailto: koshka@cartalana.org