SITE MENU
Use search function please. All the info found with Ł - refers to this site
KEVIN LYLES
VIETNAM: US UNIFORMS IN COLOUR PHOTOGRAPHS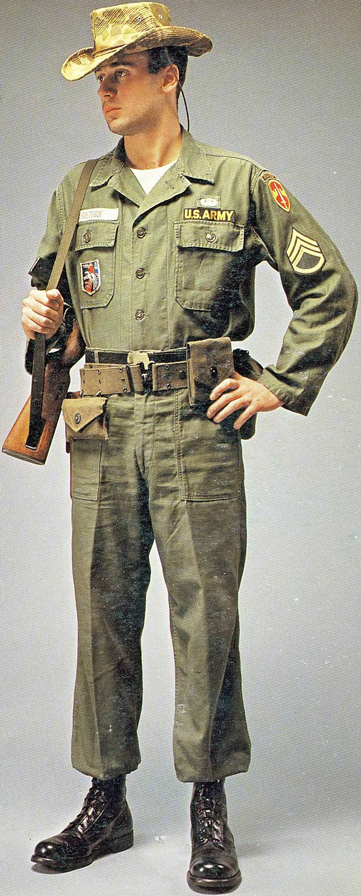 The US Military Assistance Command, Vietnam (MACV) was created on 8 February 1962 to oversee the US advisory effort; in 1964 it fielded over 4,700 men. These early pioneers of US involvement faced the formidable task of transforming the Army of the Republic of Vietnam (ARVN) into a viable fighting force. The advisors' job was fraught with danger, exposing them to political pressure as well as actual physical harm. These officers and NCOs accompanied their ARVN units into the field and were expected to provide on-the-spot instruction and advice as well as a link with US medical and logistical support. Like his Special Forces counterpart, the Army advisor introduced a much-needed core of professionalism into an otherwise unimpressive South Vietnamese army.
The Army's standard field uniform at this time was the OG107 Utility Uniform or 'fatigues'. Worn with a white undershirt and black leather combat boots, the utility uniform was authorized for all field and work environments. Made from cotton-sateen, dyed olive green Army shade 107, the uniform underwent several minor changes; it is shown here in its first version, with straight pocket flaps and plain sleeves. Later versions had docked or V-cut pocket flaps and buttoned cuffs. The trousers were worn with a black web belt with a brass roller buckle. Full-colour insignia are worn including US Army and name tapes, basic parachutist wings and Staff Sergeant's chevrons. All advisors were assigned to MACV and wore the shoulder sleeve insignia of that organization. MACV's insignia was designed to reflect its advisory role: the red ground indicated Communist aggression, the sword breaking through the wall signified US military support. Many of the advisors were Ranger-qualified and wore the yellow and black Ranger tab over the shoulder sleeve insignia. It was the practice of advisors to ARVN units to wear that unit's shoulder insignia as a pocket patch. These colourful patches were usually of the flat silk 'BeVo-weave' style of embroidery, as here, though simple printed versions existed.
The headgear is another example of a private-purchase 'cowboy' or 'bush' hat favoured by advisors. This example in a type of 'leopard' camouflage shows definite 'cowboy' influences. This type of hat was also popular with ARVN personnel, who were fascinated by the styles and fashions of the Old West, and who had worn wide-brimmed bush hats since the days of French colonial rule.
Web gear is still of World War 2/Korean War manufacture. On the M1936 Pistol Belt is worn a 45 cal. M1911A1 Auto Pistol in its M1916 Holster, an M1910 Canteen, an M1942 First Aid Pouch, and a twin-cell magazine pouch for the pistol.


/ page 4 from 46 /

mobile version of the page
We have much more interesting information on this site.
Click MENU to check it out!
∎ cartalana.com© 2013-2018 ∎ mailto: koshka@cartalana.org