SITE MENU
Use search function please. All the info found with Ł - refers to this site
The RAF took delivery of its first GR.Mk 1 in May 1973. A well-equipped tactical strike- lighter, its equipment included an inertial navigation system, a head-up display and laser ranger. From 1983, navigation upgrades resulted in the GR.Mk 1A. Some were able to perform a secondary reconnaissance role. The GR.Mk IB and two-seat T.Mk 2B was introduced in 1995 with the TIALD pod, which allows a Jaguar to deliver its own laser-guided weapons.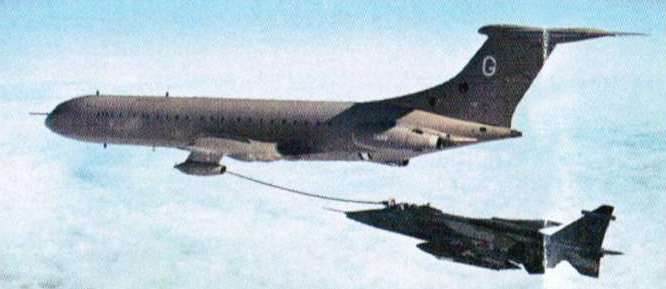 Jaguars are fitted with a retractable inflight-refueling probe, which greatly increases their range capability.
Jaguar GR.Mk 1A
XZ364 "Sadman" was one of a detachment of Jaguars from the RAF Coltishall Jaguar Wing based at Muharraq, Bahrain, and one of two RAF "Jags" that flew 47 missions in the Gulf.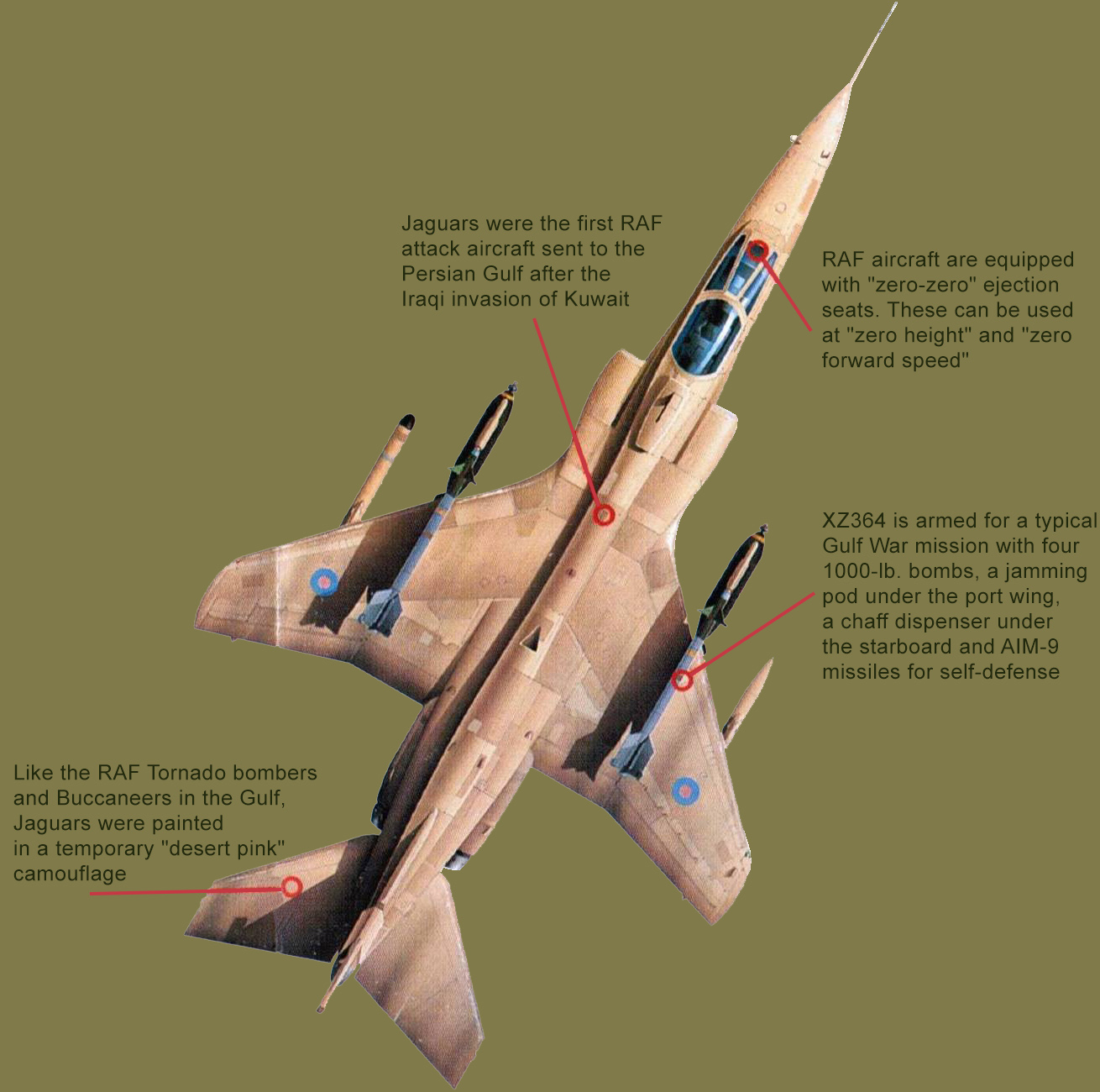 SPECIFICATIONS Jaguar GR.Mk 1A
Type: Single-seat attack bomber.
Powerplant: Two 8,000-lb.-thrust Rolls-Royce/Turbomeca Adour Mk 104 afterburning turbofans.
Maximum speed: 1,050 m.p.h. (Mach 1.5) at altitude.
Combat radius: 530 mi. on internal fuel.
Service ceiling: 45,986 ft.
Weights: Empty 15,400 lb.; max takeoff 33,972 lb.
Weapons: Two 30-mm Aden cannon plus provision for two AIM-9L Sidewinder air-to-air missiles on overwing pylons plus up to 9,975 lbs. of underwing stores on five pylons.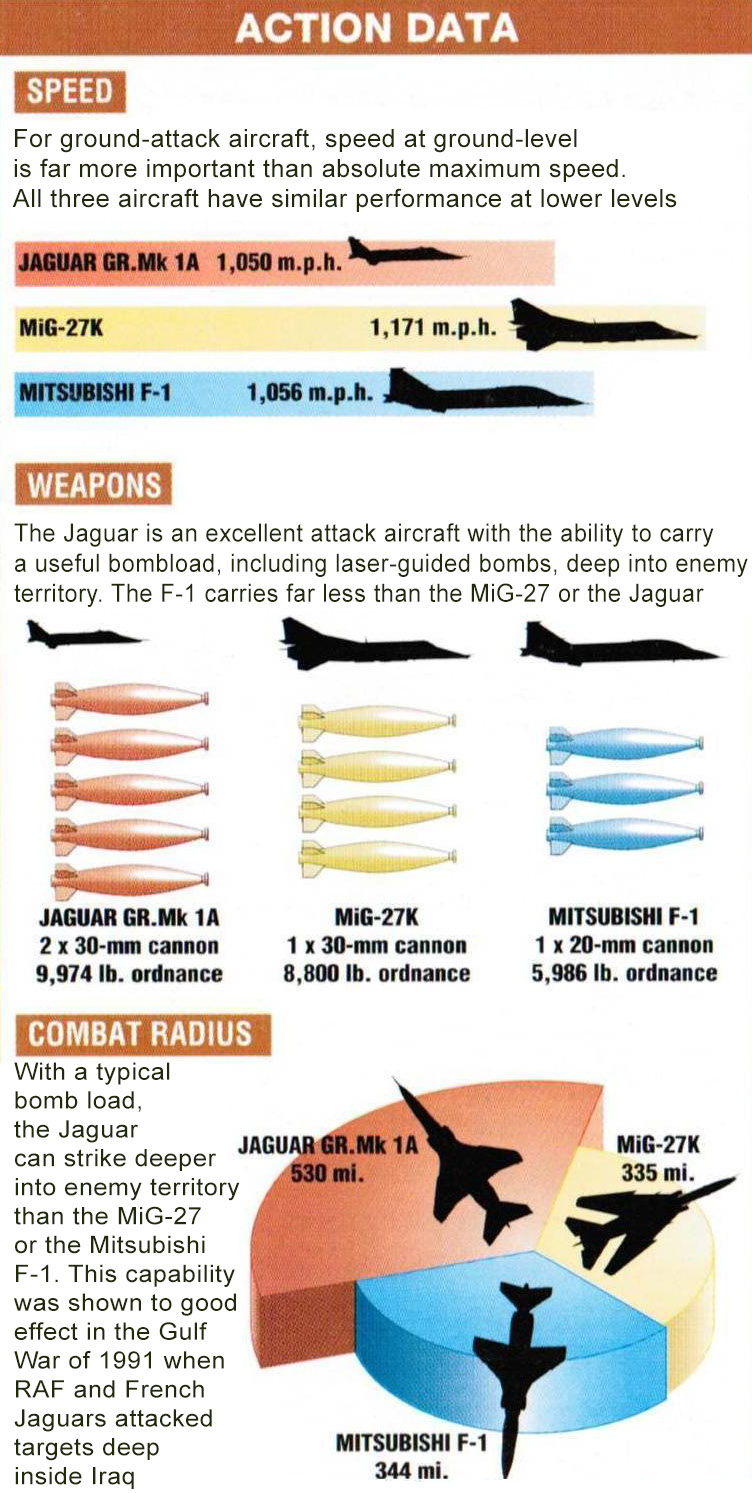 Dimensions:
Span 28 ft.
Length 57 ft.
Height 16 ft.
Wing area 260 sq. ft.
SEPECAT Jaguar GR.Mk 1/GR.Mk 1B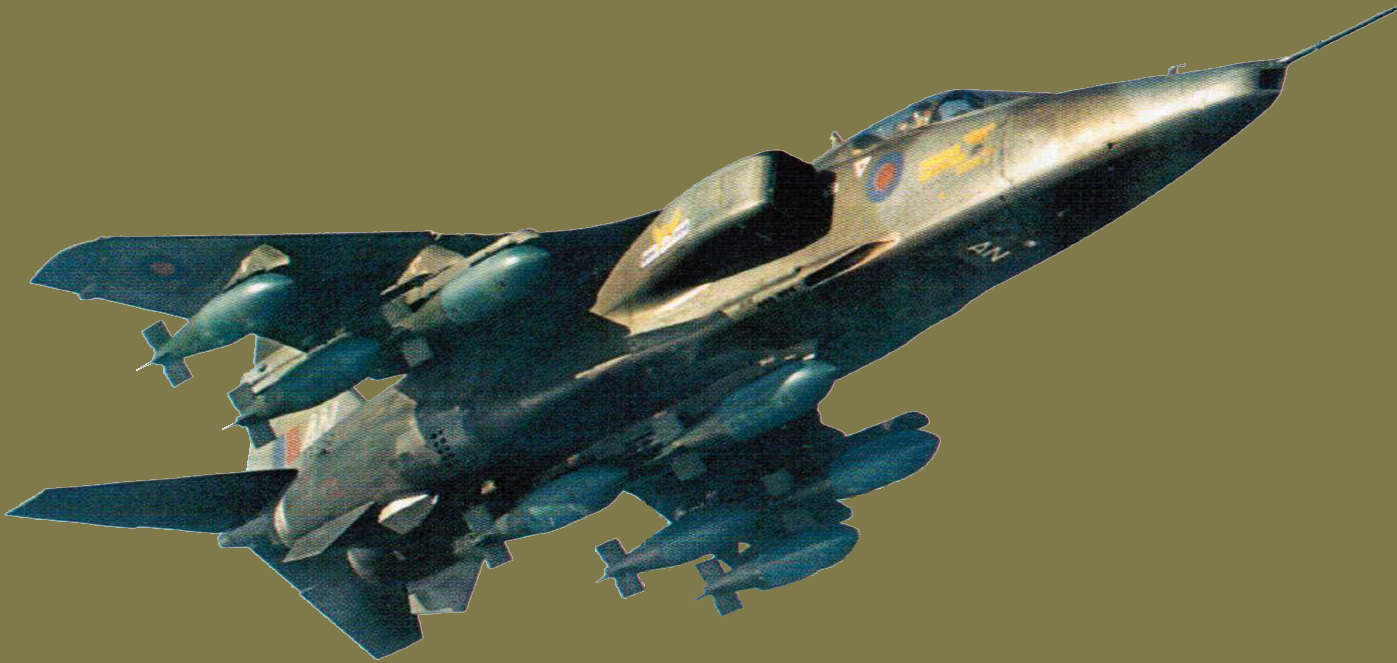 Jaguar carries a B-24's load
This GR.Mk 1 carries eight 1,000-lb. bombs, equivalent to the tonnage carried by a WWII-era B-24 Liberator bomber. A more normal load includes chaff and flare pods, fuel tanks and a pair of infrared missiles.



/ page 9 from 23 /

mobile version of the page
We have much more interesting information on this site.
Click MENU to check it out!
∎ cartalana.com© 2013-2019 ∎ mailto: koshka@cartalana.org