SITE MENU
Use search function please. All the info found with Ł - refers to this site
▶ Lightweight fighter
▶ Multimission capable
▶ "The Electric Jet"
The F-16 Fighting Falcon is over 20 years old but still a star performer. Fast and potent, it remains one of the best fighters in its class. This relatively lightweight and inexpensive warplane gave us electronic flight controls and other high-tech wizardry. In addition, its radar, missiles and cannon make it a genuine Top Gun, respected by friend and foe alike.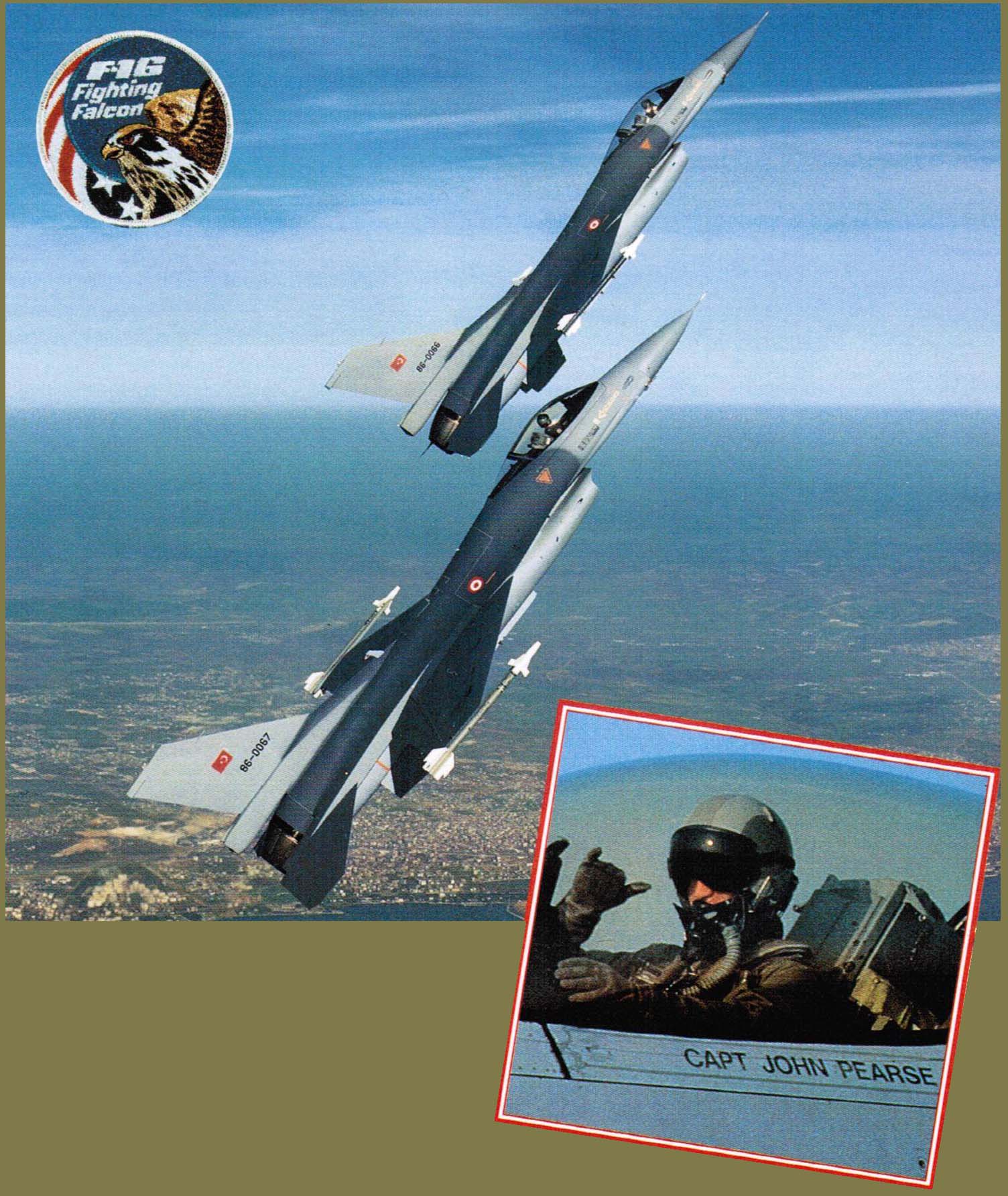 The F-16 pilot has at his command the West's premier light- fighter. The view from the cockpit is outstanding, thanks to the massive one-piece bubble canopy.
Lightweight superjet
The F-16 is proof that one aircraft can push back the boundaries of aviation. This marvelous warplane introduced features such as lightweight computers, "fly-by-wire" electronic controls and an arsenal of high-tech weapons.
No longer new, the F-16 is still a boon to those who fly it. Pilots say the F-16 is a super ship, without equal from the viewpoint of the airman at the controls.
Engineers intended the F-16 as a no-frills "hot rod." It gained weight with the addition of improved radar and weaponry, but the F-16 is still smaller and more nimble than many fighters. Used mainly to drop bombs, the Fighting Falcon can turn and fight with unbridled fury when provoked. It also was one of the first operational fly-by-wire aircraft - its controls being electronically operated and computer controlled. The pilot sits in a seat that reclines at a 30-degree angle to withstand high-g maneuvers. In this position, he maintains a higher fighting ability than his enemy.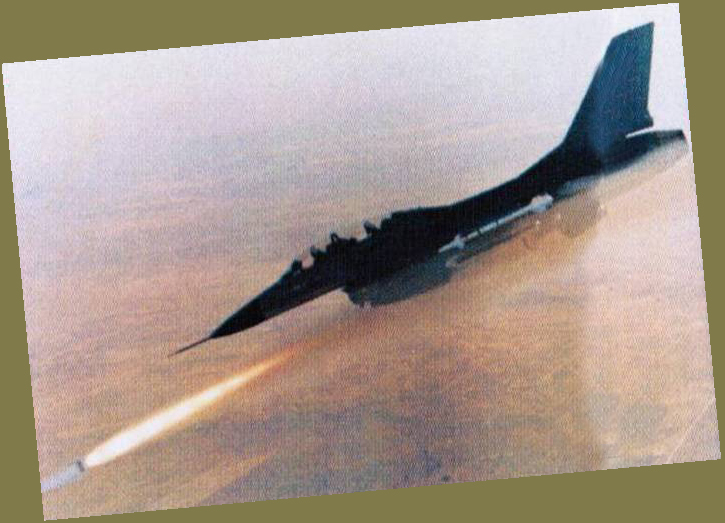 Despite its amazing agility, the F-16 is steady as a rock when it needs to be - diving in to attack a target with gun or missiles. Here a two-seater lets fly with a Maverick missile, a favorite against tanks.
SPECIFICATIONS F-16C Fighting Falcon
Type: Single-seat multirole fighter.
Powerplant: One 25,000-lb.-thrust P&W F100 or 25,200-lb.-thrust GE F110 afterburning turbojet.
Maximum speed: 1,320 m.p.h. (Mach 2.05) at 40,000 ft.
Combat radius: 800 mi. with drop tanks.
Service ceiling: 50,000 ft.
Weights: Empty 18,200 lb.; max takeoff 27,200 lb.
Weapons: One M61 Vulcan 20-mm cannon and up to 20,400 lb. of air-to-air and air-to-ground weaponry.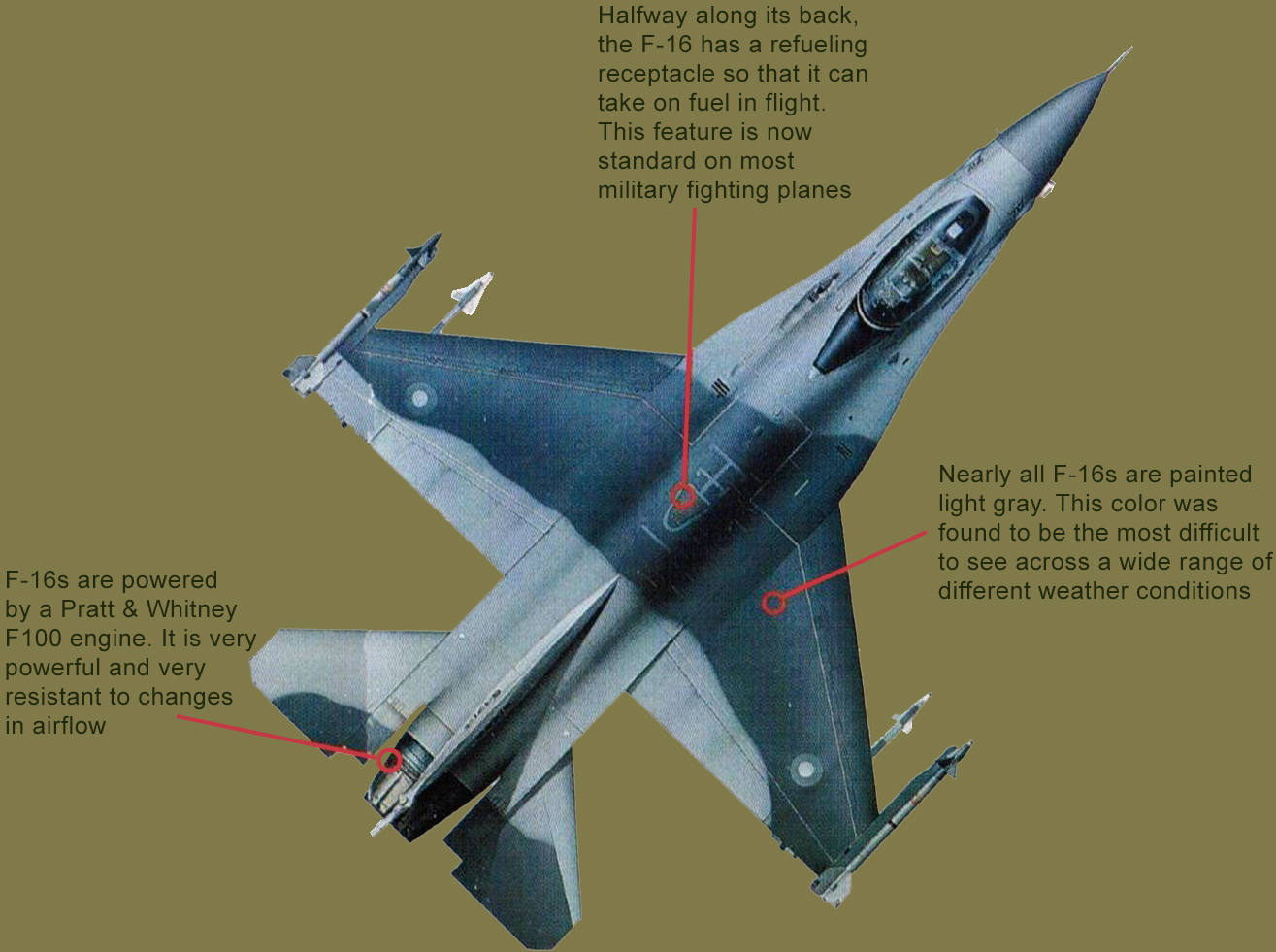 Dimensions:
Span 31 ft.
Length 47 ft. 8 in.
Height 16 ft. 5 in.
Wing area 278 sq. ft.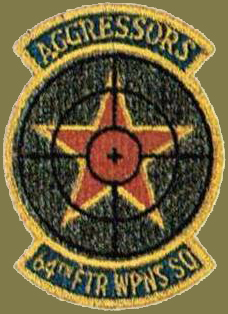 F-16A Fighting Falcon
In service with many nations, the F-16 can rightly be regarded as the world's standard fighter. This F-16 is one of Pakistan's aircraft, used to shoot down several types of Russian planes along the border with Afghanistan.



/ page 7 from 23 /

mobile version of the page
We have much more interesting information on this site.
Click MENU to check it out!
∎ cartalana.com© 2013-2019 ∎ mailto: koshka@cartalana.org