SITE MENU
Use search function please. All the info found with Ł - refers to this site
AMERICAN AIRCRAFT OF WORLD WAR II
▶ Long-range escort fighter
▶ Most Allied kills
▶ 281 Mustang aces
As the bombers of the Eighth Air Force fought their way deep into Hitler's heartland, it was the Mustang that cleared the skies of Luftwaffe fighters. No other combat airplane of the war could fly as high, go as far and fight as hard as the mighty Mustang. In the skilled hands of young U.S. Air Corps pilots, it took on all comers and accounted for more kills than any other Allied airplane.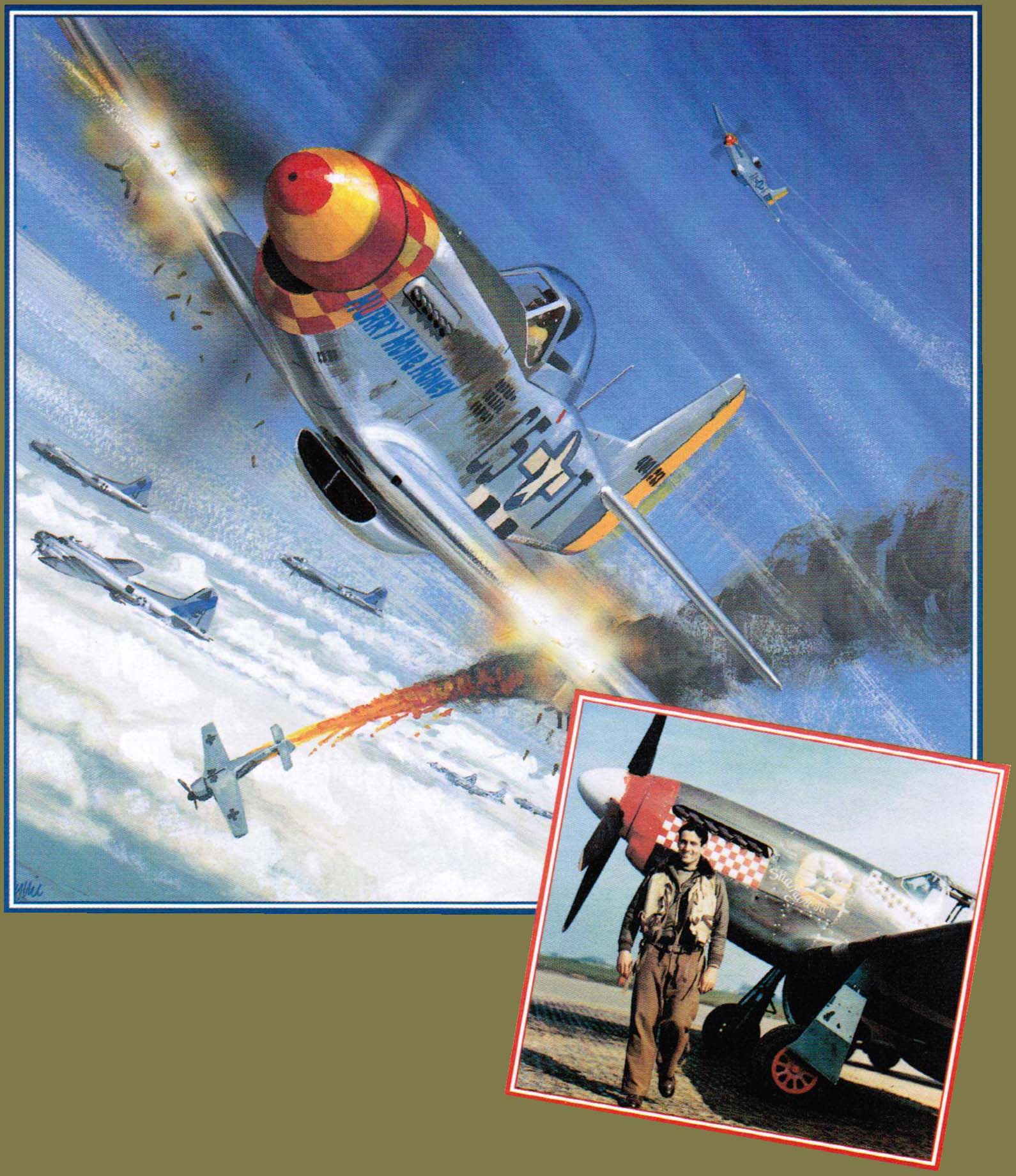 One of the great Mustang heroes, Major Don Gentile, with his favorite machine "Shangri-La" during 1943. He made 15 kills in Mustangs - half of them in one month.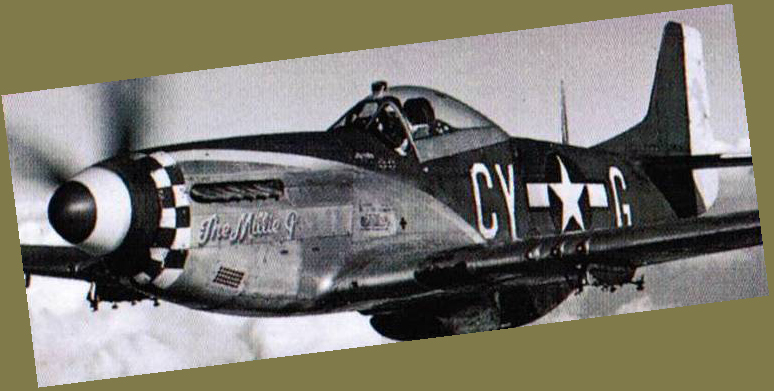 Mustangs were flown by more aces than any other Allied fighter. Their prey even included the Me 262 jet.
Top Gun to the bomber force
Faced with invasion in 1939 and desperately short of lighters, the Royal Air Force asked North American Aviation to quickly produce the existing but obsolete P-40 Warhawk. Instead, the company designed, built and flew a new airplane in just 117 days - the Mustang.
Using an existing Allison engine and the latest laminar-flow wing, the new fighter immediately went into service with the RAF. In
December 1941 the United States joined the war, and it too needed good fighters fast. So the U.S. Air Corps took the basic RAF Mustang, rearmed it with four machine guns, and added an uprated engine. It was a good performer, but couldn't operate well alongside the high-flying long-range bomber.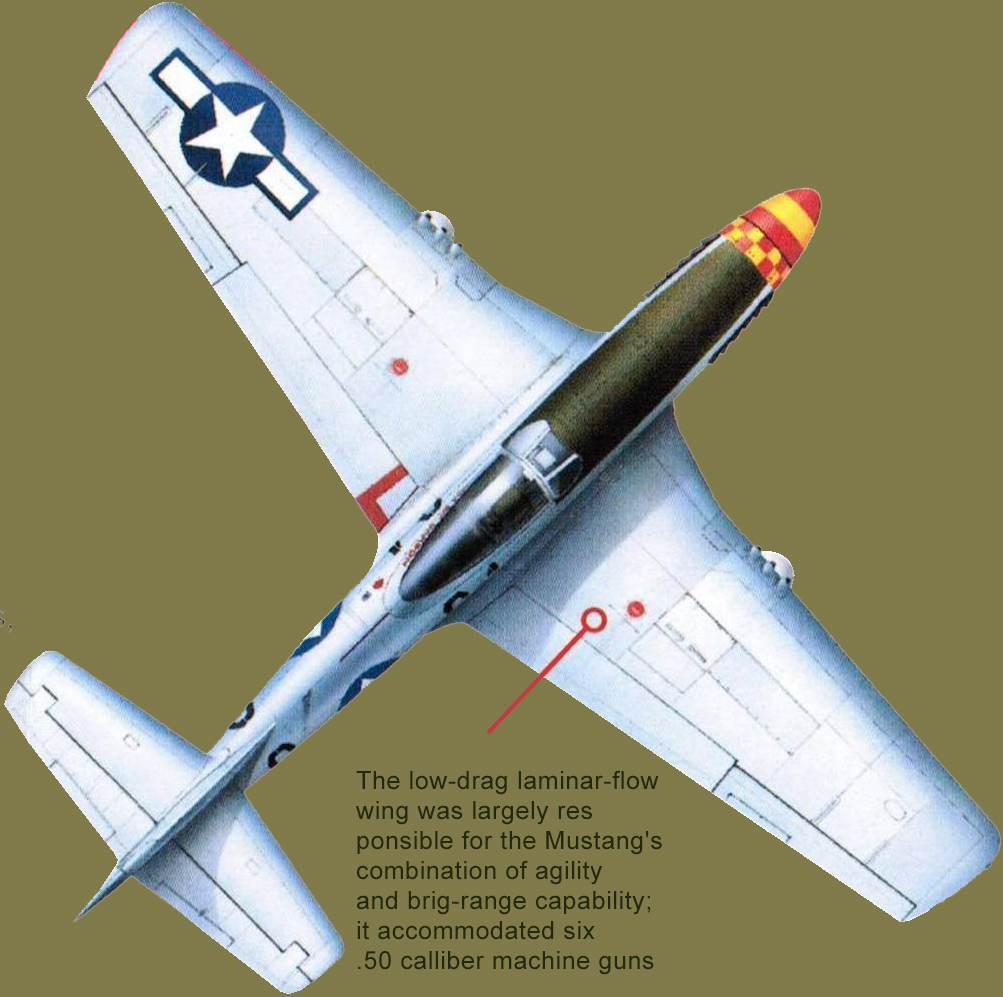 By 1944 the aircraft used the Rolls-Royce Merlin engine, adopted a new bubble cockpit and increased its firepower to six .50 caliber machine guns. It was now the best fighter in the war and fought superbly in all theaters, as fighter, fighter-bomber and reconnaissance platform. It was loved by its aircrews, and no fewer than 281 Mustang pilots became aces - each shooting down at least five enemy aircraft.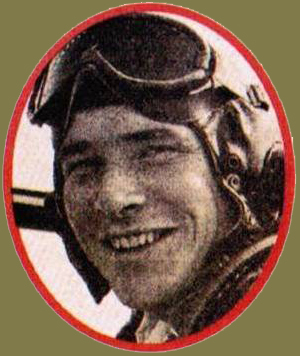 P-51K Mustang "Nooky Booky IV"
This P-51K was flown by Major Leonard "Kit" Carson (left) of the 362nd Fighter Squadron, based at Leiston, England, as part of the 357th Fighter Group during 1944. Carson was one of the top-scoring Mustang aces, with 18 air-to-air victories.


SPECIFICATIONS P-51D Mustang
Type: Single-seat long-range escort fighter, fighter-bomber.
Powerplant: One 1,510-hp. Packard V-1650-7 (U.S.-built Rolls-Royce Merlin 61) inverted-vee 12-cylinder inline water-cooled piston engine.
Maximum speed: 445 m.p.h. at 25,000 ft.
Combat radius: 325 miles on internal fuel; 750 miles with two 130-gal. tanks.
Service ceiling: 41,900 ft.
Weapons: Six .50 cal. Browning machine guns in wings; two 500-lb. bombs or eight 75-mm rockets in place of long-range drop tanks.
Weights: Empty 7,125 lb.; Loaded 11,600 lb.
Dimensions: Span 37 ft.
Length 32 ft. 3 in.
Height 12 ft. 2 in.
Wing area 235 sq. ft.


/ page 1 from 23 /

mobile version of the page
We have much more interesting information on this site.
Click MENU to check it out!
∎ cartalana.com© 2013-2018 ∎ mailto: koshka@cartalana.org