SITE MENU
Use search function please. All the info found with Ł - refers to this site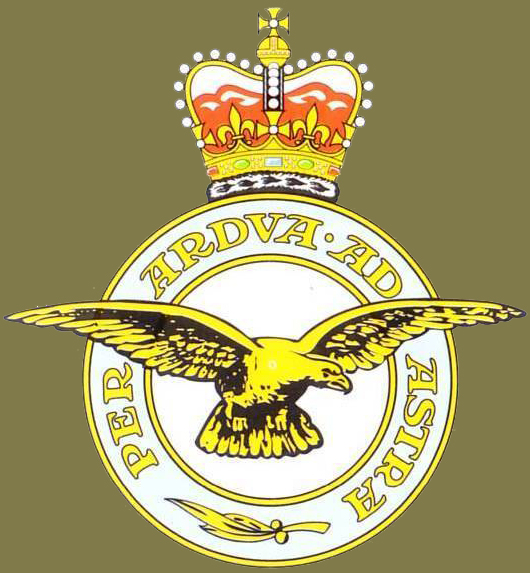 ROYAL AIR FORCE. COMMON CORE AND DEPLOYMENT SKILLS AIDE-MEMOIRE
NEUTRAL HEAD POSITION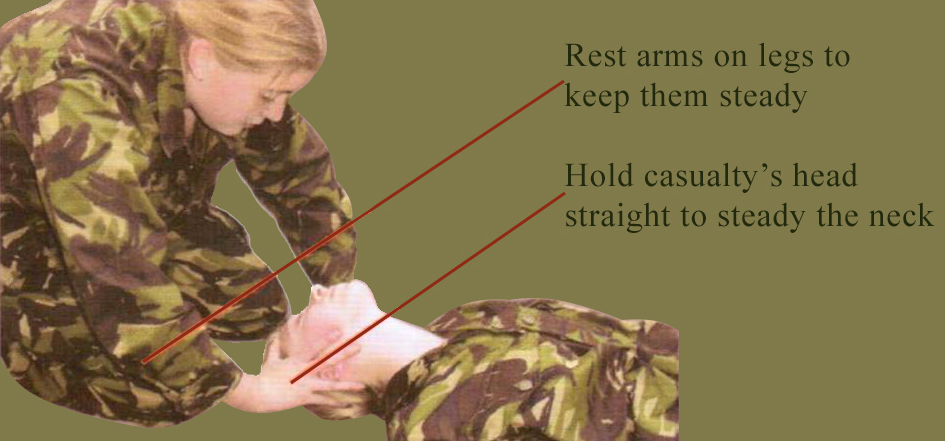 Unconscious casualty:
◉ Steady and support head in a neutral head position, which is the head, neck and spine all aligned.
◉ If necessary, open casualty's airway using the jaw thrust method, taking care not to tilt the casualty's neck.
◉ Check casualty's breathing, if breathing, continue to support head and neck.
◉ If casualty is not breathing and shows no signs of circulation proceed with administering Rescue Breaths and CPR.
◉ Monitor and record vital signs.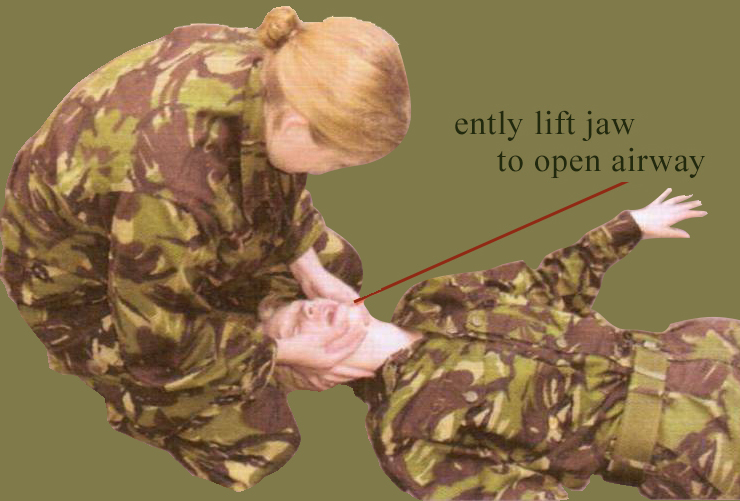 JAW THRUST
YOUR AIMS
◉ To maintain an open airway and resuscitate, if necessary.
◉ To prevent further injury.
◉ To arrange urgent removal to hospital.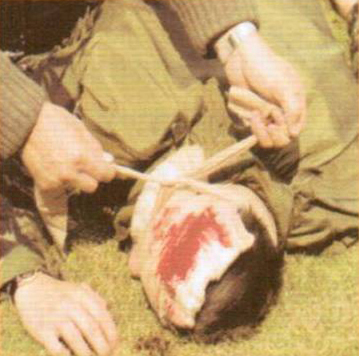 SIGNS AND SYMPTOMS
◉ Wound, bruise or soft depression on the head.
◉ Impaired consciousness.
◉ Deterioration of response level.
◉ Leakage of blood or clear fluid from nose or ear.
◉ Bloodshot eyes.
◉ Distortion of the head or face.
YOUR ACTIONS
◉ Help conscious casualty to lie down, try not to turn head in case of neck injury.
◉ Control any bleeding from the scalp, look for and treat any other injuries.
◉ Allow any fluid to drain and cover with sterile pad.
◉ Call for medical aid.
◉ Regularly monitor and record vital signs, level of response and breathing,
◉ If the casualty is unconscious, open airway using the jaw thrust method and check breathing. Be prepared to give rescue breaths and chest compressions if needed.
YOUR AIMS
◉ Support the chest wall.
◉ Seal any wound and maintain breathing.
◉ Minimise shock.
◉ Arrange evacuation to medical aid.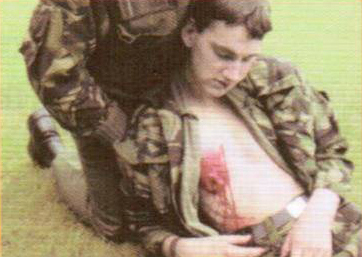 SIGNS AND SYMPTOMS
◉ Sharp pain at injury site.
◉ Pain exacerbated by heavy breathing or coughing.
◉ An open wound may be present.
◉ Signs of internal bleeding (shock).
◉ If lung punctured, then frothy blood could be coughed up and lips may be blue (cyanosis).
◉ Paradoxical breathing (unequal chest movement).


/ page 20 from 65 /

mobile version of the page
We have much more interesting information on this site.
Click MENU to check it out!
∎ cartalana.com© 2013-2019 ∎ mailto: koshka@cartalana.org