SITE MENU
Use search function please. All the info found with Ł - refers to this site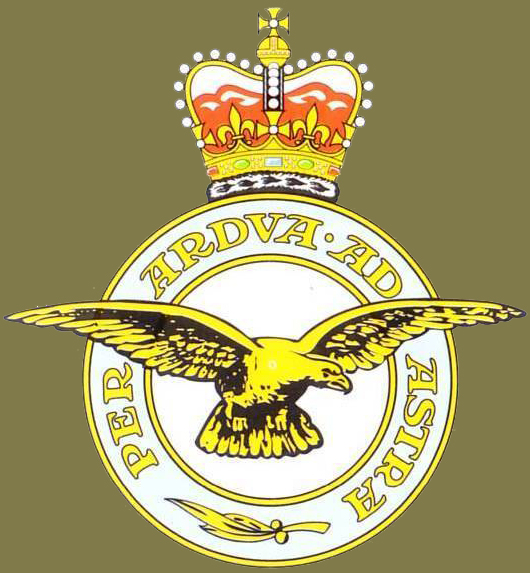 ROYAL AIR FORCE. COMMON CORE AND DEPLOYMENT SKILLS AIDE-MEMOIRE
THE RIFLE AND LSW LUBRICATION POINTS
Use OX 24 on the circled points below: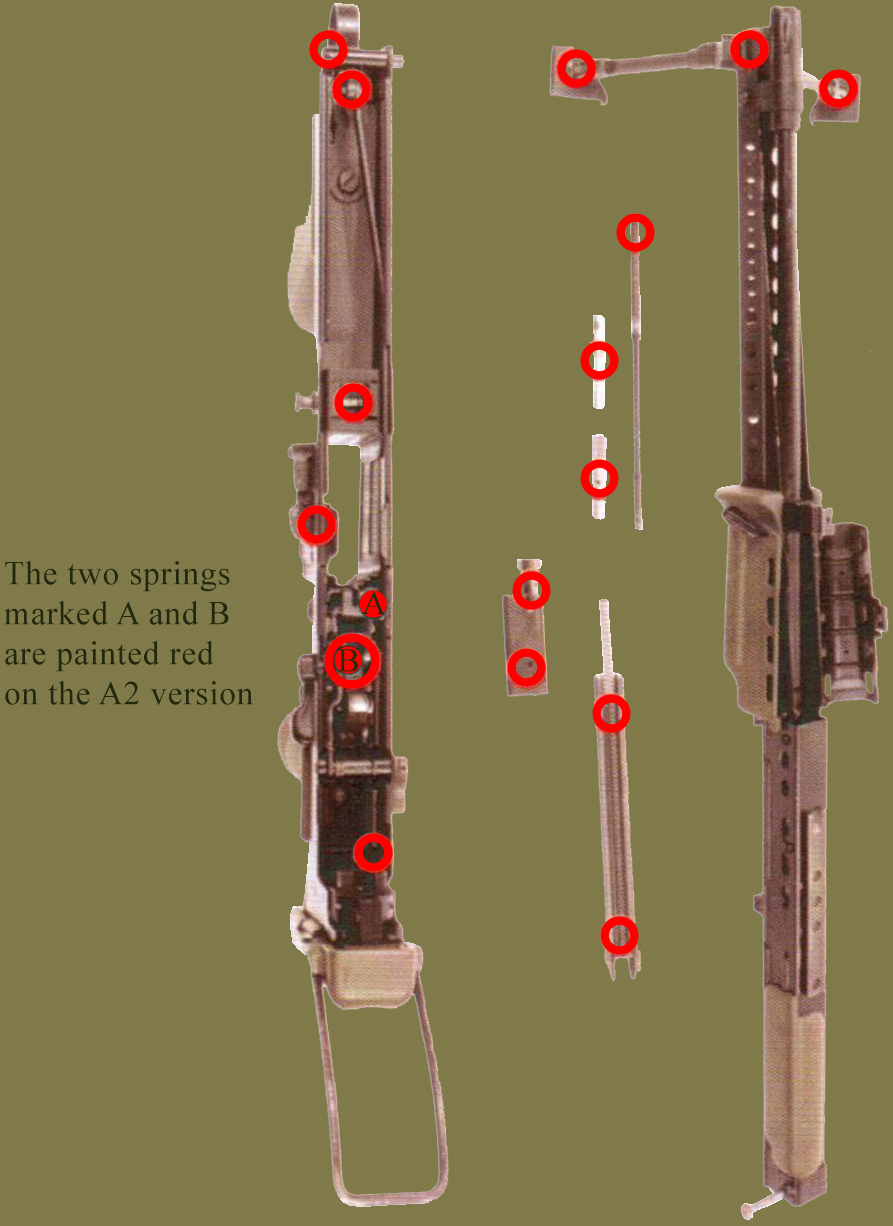 The two springs marked A and B are painted red on the A2 version.
1. Oil bottle.
2. Scotchbright.
3. Muzzle cover.
4. Combination tool.
5. 2 piece cleaning rod and handle.
6. General purpose soft brush.
7. Gas block brush.
8. Barrel extension cleaner.
9. General purpose wire brush.
10. Bore brush.
11. Chamber barrel extension brush.
12. Pull-through.
NOTE:
When items contained within the cleaning kit are worn out, they should be replaced.
NORMAL CONDITIONS
Dry clean, then examine for damage, stains or wear.
Lightly oil the weapon and magazine.
HEAVY RAIN AND DAMP CONDITIONS
Clean as normal. Keep the muzzle and sight covers fitted as long as possible. Inspect frequently for rust and remove it.
TROPICAL HUMID CONDITIONS
Clean as normal but use the special issue lubricant, anticipating a rapid return of rust.
COLD AND EXTREME COLD CONDITIONS
Clean as normal but use oil sparingly. If the temperature warrants, a special lubricant will be issued. To prevent snow from entering the barrel keep the muzzle cover fitted. To avoid condensation, do not fit the sight cover.
DRY, SANDY OR DUSTY CONDITIONS
In such conditions the outside of the rifle must be kept dry. All traces of oil should be removed from the exterior of the weapon by wiping with a dry rag. Internally the rifle should be frequently oiled. If rust appears remove it as normal, but take care to remove any oil that remains. Occasionally strip the weapon and empty out any grit which may have collected in the TMH, likewise empty the magazines and tip out any residue sand or grit. Keep the muzzle cover fitted all the time, and the sight cover, if possible.
Normal Safety Precautions (NSPs) are to be carried out at the beginning and end of every lesson, practice or range period and immediately on returning to barracks, bivouac, tent or operational base and on completion of any patrol or duty.
◉ Point weapon in a safe direction.
◉ Safety catch to 'S', change lever to 'R'.
◉ Cock the weapon; engage the holding open catch.
◉ Look into the ejection opening and inspect the weapon to ensure the body, chamber and face of the bolt are clear of ammunition or obstructions.
◉ If handing over a weapon with no magazine fitted, carry out NSPs and show the weapon is clear to the recipient as taught.
◉ At night feel with the little finger or insert the weight of a pull-through into the chamber to ensure it is clear. Release bolt, using the bolt release catch, tap forward on the cocking handle.
◉ Point the weapon in a safe direction, safety catch to 'F', then operate the trigger.
◉ Safety catch to 'S', then close the dust cover.


/ page 3 from 65 /

mobile version of the page
We have much more interesting information on this site.
Click MENU to check it out!
∎ cartalana.com© 2013-2020 ∎ mailto: koshka@cartalana.org