SITE MENU
Use search function please. All the info found with Ł - refers to this site
THE UNITED STATES MARINE CORPS (USMC) DEVOTIONAL FIELD BOOK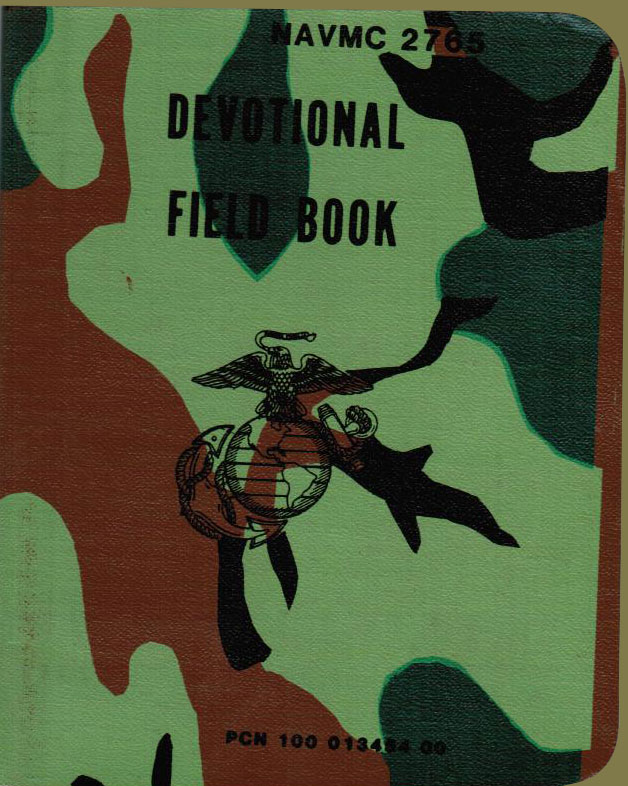 Father, grant that I might be a bearer of Christ Jesus, your Son. Allow me to warm the often cold, impersonal scene of modern life with your burning love. Strengthen me by your Holy Spirit to carry out my MISSION of changing the world, or some definite part of it for the better. Despite my lamentable failures, bring home to me that my advantages are your blessings to be shared with others.
Make me more energetic in setting right what I find wrong with the world, instead of complaining about it. Nourish in me a practical desire to build up, rather than to tear down, to reconcile instead of polarize, to go out on a limb rather than crave security. Never let me forget that IT IS FAR BETTER TO LIGHT ONE CANDLE THAN TO CURSE THE DARKNESS, and to join my light, one day, with yours. Amen.
1. O Heavenly King, the Comforter, the Spirit of truth who art everywhere and fillest all things. Treasury of Blessings, and Giver of Life: Come and abide in us, and cleanse us from every impurity, and save our souls, O Good One.
2. O most Holy Trinity, have mercy on us. O Lord, cleanse us from our sins. O Master, pardon our transgressions. O Holy One, visit and heal our infirmities, for Thy names sake.
Lord, be thou within us, to strengthen us; without us, to keep us; above us, to protect us: beneath us, to uphold us; before us, to direct us; behind us, to keep us from straying; round about us, to defend us.
Almighty God, our Heavenly Father, who of thy great mercy hast promised forgiveness of sins to all them that with hearty repentance and true faith, turn unto thee; have mercy upon us; pardon and deliver us from all our sins; confirm and strengthen us in all goodness; and bring us to everlasting life through Jesus Christ our Lord. Amen.
O Eternal Father, we commend to your protection and care the members of the Marine Corps. Guide and direct them in the defense of our country and in the maintenance of justice among nations. Protect them in the hour of danger. Grant that wherever they serve they may be loyal to their high traditions and that at all times they may put their trust in you; through Jesus Christ our Lord.
Heavenly Father, on a day of battle I commit myself body and soul to your keeping. When I am in peril of life, give me courage to do my duty. When I am tempted to sin, give me strength to resist. If I am sick or wounded, grant me healing. If I fall, of your mercy receive me to yourself, forgiving me all my sins. Bless all who are near and dear to me and keep them in your fatherly care. And in your good providence, out of this evil bring a lasting peace; through Jesus Christ our Lord.
O Lord we pray you to have mercy upon all who are this day wounded and suffering. Though family and friends be far away, let your grace be their comfort. Raise them to health again, if it be your good pleasure; but chiefly give them patience and faith in you; through Jesus Christ our Lord.
Almighty God, we entrust all who are dear to us to your never-failing care and love for this life and the life to come; Knowing that you are doing for them better things than we can desire or pray for; through Jesus Christ our Lord.
Be our light in the darkness, O Lord, and in your great mercy defend us from all perils and dangers of this night; for the love of your Son, our Saviour Jesus Christ.
8. Prayer for Loyalty to Christ
O Lord Jesus Christ, who art the Way, the Truth, and the Life, we pray thee suffer us not to stray from thee, who art the Way, nor to distrust thee, who art the Truth, nor to rest in any other thing than thee, who art the Life. Teach us by thy Holy Spirit what to believe, what to do, and wherein to take our rest. For thine own name's sake we ask it. Amen.


/ page 10 from 27 /

mobile version of the page
We have much more interesting information on this site.
Click MENU to check it out!
∎ cartalana.com© 2013-2018 ∎ mailto: koshka@cartalana.org