SITE MENU
Use search function please. All the info found with Ł - refers to this site
THE UNITED STATES MARINE CORPS (USMC) DEVOTIONAL FIELD BOOK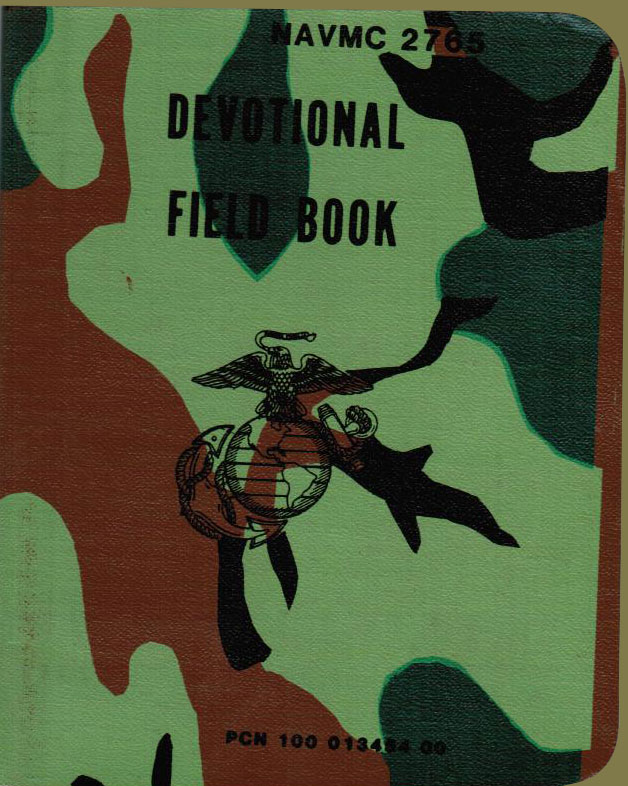 Hail Mary, full of grace. The Lord is with thee. Blessed art thou amongst women, and blessed is the fruit of thy womb, Jesus. Holy Mary, Mother of God, pray for us sinners, now and at the hour of our death. Amen.
2. The Rosary The Joyful Mysteries
1. The messenger of God announces to Mary that she is to be the Mother of God. (Humility)
2. Mary visits and helps her cousin Elizabeth. (Love of Neighbor)
3. Mary gives birth to Jesus in a stable in Bethlehem. (Spirit of Poverty)
4. Jesus is presented in the Temple. (Obedience to God's Will)
5. Jesus is found in the Temple. (Fidelity to Vocation)
The Sorrowful Mysteries
1. Jesus undergoes his agony in the Garden of Gethsemane. (Spirit of Prayer)
2. Jesus is scorched at the pillar. (Modesty and Purity)
3. Jesus is crowned with thorns. (Courage)
4. Jesus carries the cross to Calvary. (Patience in Suffering)
5. Jesus dies on the cross for our sins. (Self-Denial)
The Glorious Mysteries
1. Jesus rises from the dead. (Faith)
2. Jesus ascends into heaven. (Hope)
3. The Holy Spirit comes to the apostles and the Blessed Mother. (Wisdom, Love, Zeal, Fortitude)
4. The Mother of Jesus is taken into heaven. (Eternal Happiness)
5. Mary is crowned queen of heaven and earth. (Devotion to Mary and Final Perseverance)
(At each Station, contemplate the scene and pray a brief, heartfelt prayer.)
1. Jesus is condemned to death on the cross. (Mark 14:61-64)
2. Jesus accepts his cross. (John 19:14-17)
3. Jesus falls the first time. (John 15:18-20)
4. Jesus meets his sorrowful Mother. (John 19:25-27)
5. Simon of Cyrene helps Jesus carry his cross. (Mark 15:20-22)
6. Veronica wipes the face of Jesus. (Mathew 25:37-40)
7. Jesus falls the second time. (Isaiah 53:4-6)
8. Jesus meets and speaks to the women of Jerusalem. (Luke 23:27-28)
9. Jesus falls the third time. (Psalm 118:25-28)
10. Jesus is stripped of his garments. (Matthew 27:34-35)
11. Jesus is nailed to the cross. (Luke 23:33-34)
12. Jesus dies on the cross. (Luke 23:44-46)
13. Jesus is taken down from the cross and laid in his mother's arms. (John 19:33-37)
14. Jesus is placed in the tomb. (Matthew 27:59-60)
15. Jesus rises from the dead. (Mark 16:1-6)
O God of all love, when will we truly believe that you do love us beyond our understanding? Each day tells it to the other as each offers us Your precious gifts. Each night would speak it anew to us as You give us rest and renewal. But the greatest witness to Your love we hear constantly from Your Word. There You tell us that Your Son shed His blood for us that we might be cleansed from all our sin. Now we can call you "Father". Now we can stand before You in the purity of Christ's righteousness and in the certainty of being Your children. Let Your love in Christ be the power of our lives and the joys of all our days. We thank You that we can lie down in peace and entrust ourselves to Your never-failing love. We rest in Jesus' name. Amen.
O my God, I am heartily sorry for having offended you, and I detest all my sins because of your just punishments, but most of all because they offend you, my God, who are all-good and deserving of all my love. I firmly resolve, with the help of your grace, to sin no more, and to avoid the near occasions of sin.


/ page 9 from 27 /

mobile version of the page
We have much more interesting information on this site.
Click MENU to check it out!
∎ cartalana.com© 2013-2018 ∎ mailto: koshka@cartalana.org