SITE MENU
Use search function please. All the info found with Ł - refers to this site
Rights Reserved - Free Access.
This digital object is protected by copyright and/or related rights. This digital object is accessible without charge, but its use is subject to written permission.
Unless expressly stated otherwise in the licensing conditions, you are free to make any of the acts permitted by your national copyright and related rights act, including browsing, printing and making a copy for your own personal purposes.
All other acts of reproduction and communication to the public are subject to the licensing conditions attached to the digital object.
ARMY BOOTS OF THE WORLD. REVIEWS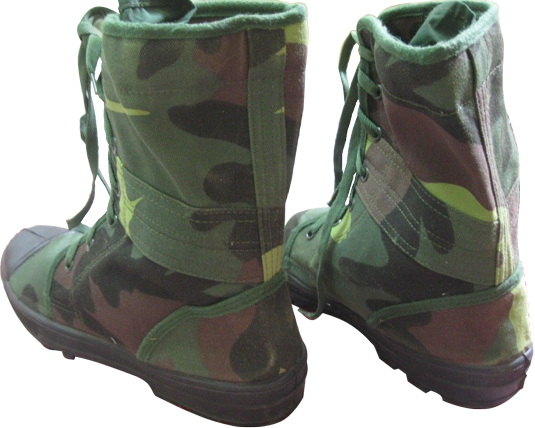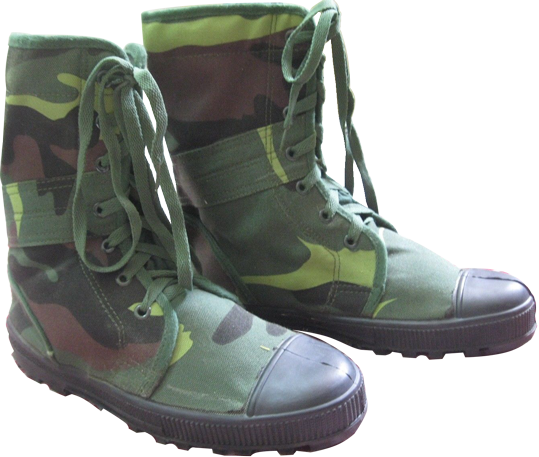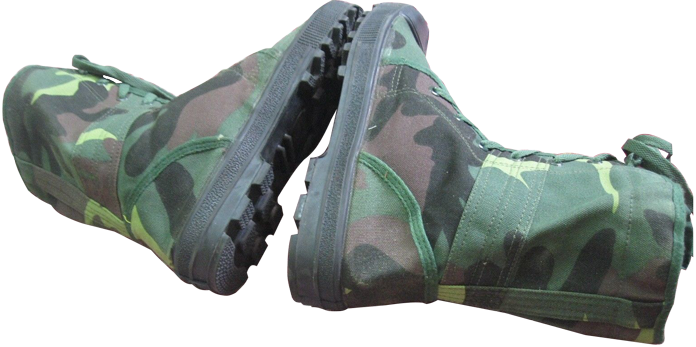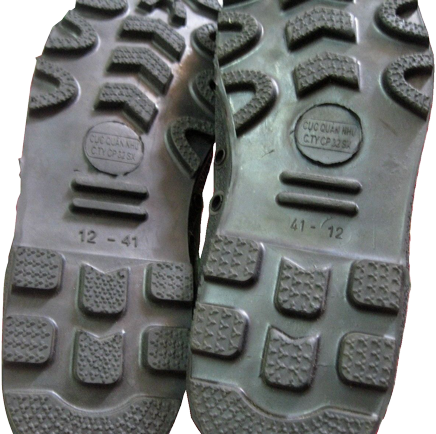 The figure above shows Vietnamese-made high canvas boots with a top of camouflage, reminiscent American "Woodland - ERDL", but with more bright colors. Historically there were no French "Pataugas"-type boots with camouflaged canvas top, so this can be considered as the Asian invention. These boots are made similarly to the low green boots version, but characterized by a lack of ventilation and drainage eyelets, and the construction of the top was reinforced by canvas stripes in the middle part of the top, on the level of the fourth pair of eyelets, counting from the bottom. Most often among the original manufacturers of the French "Pataugas" boots one can find the following brand names: "Aigle", "Au Coq", "Bonusage", "Morvan", "Palladium", "Paraflac", "Pataugas", "Paul Boyé", "Vernon", "Wissart", etc. ...

The "Pataugas", produced by the "AIGLE" company (French for the "Eagle") comprised the olive-colored canvas top and the green rubber out-sole, the tread pattern consisted of "V"-shaped, rectangular and round lugs, while the boot size and the manufacturer's label were indicated on the sole.
The boots model produced by "Au Coq", adopted in 1958, featured more thick rubber layer on the heel (this model looks more massive than most similar models by the other manufacturers) and the top of relatively more light-colored fabric.

The "Pataugas" model by "Bonusage" (chaussures de brousse de marque "Bonusage"), which were approved in 1957, also features a massive black rubber out-sole of very specific shape (with big-scale tread pattern and wide lugs), but they were low and with just five pairs of aluminum lacing eyelets. Thin nylon parachute cords were used instead of laces due to their superior strength and durability versus the standard cotton laces.
The contract boots by "Morvan" (chaussures de brousse françaises du commerce "Morvan"), which were adopted in 1954, resemble the first model by "Vernon", and feature the out-sole with large "V"-shaped lugs.
Exclusively for cartalana.com



/ page 171 from 204 /

mobile version of the page
We have much more interesting information on this site.
Click MENU to check it out!
∎ cartalana.com© 2013-2018 ∎ mailto: koshka@cartalana.org