SITE MENU
Use search function please. All the info found with Ł - refers to this site
Rights Reserved - Free Access.
This digital object is protected by copyright and/or related rights. This digital object is accessible without charge, but its use is subject to written permission.
Unless expressly stated otherwise in the licensing conditions, you are free to make any of the acts permitted by your national copyright and related rights act, including browsing, printing and making a copy for your own personal purposes.
All other acts of reproduction and communication to the public are subject to the licensing conditions attached to the digital object.
ARMY BOOTS OF THE WORLD. REVIEWS
- the models with the cuffs and buckles at the top were different as well: in the earlier versions the straps and buckles fixing base patches were made of leather, they were sewn-on separately, and the straps had five holes. On the later models the straps were made of canvas, and presented by themselves the single unit, while each leather strap had four holes for the buckle teeth.
The materials from which the "Pataugas" boots were made
Further on, the armed forces placed the orders for "Pataugas" in a number of private companies, and around the mid-1950s, the French troops used a variety of models with the marks of different manufacturers. All the models were made of the same materials: rubber and canvas (of linen or cotton), and the colors varied from dark green or olive-green to light khaki.
These boots were both low and high, with protective cuff featuring two buckles or without it. The following image shows high (13 pairs of lacing eyelets) "Pataugas" boots, khaki-colored with brown rubber out-sole, made by "Palladium". The tread pattern of the soles consists of interleaving "V"-shaped and round lugs. Additional canvas strips of the same material as the boot's top are sewn on the level of the third pair of eyelets (counting from the bottom) and serve for the general structural reinforcement. On the inner side of the foot, an additional protrusion of the rubber boot sole is provided for more anatomically-correct shape. These boots feature no protective round rubber pads covering the malleolus bones.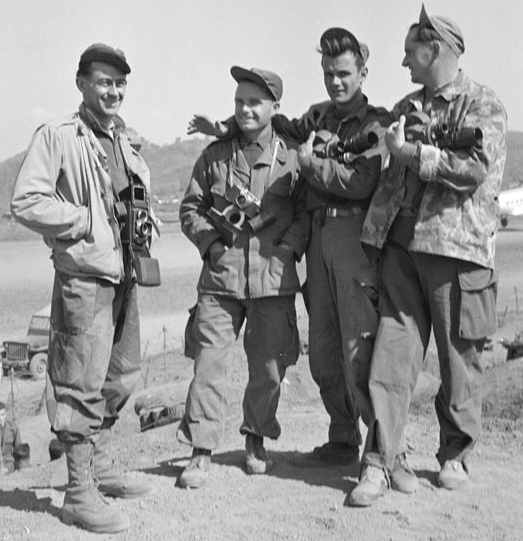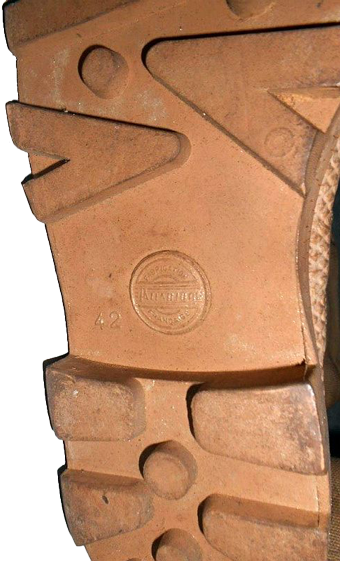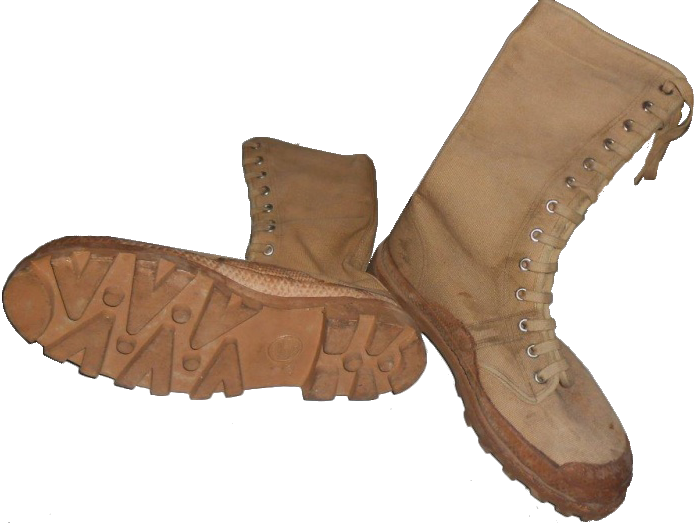 Exclusively for cartalana.com


/ page 168 from 204 /

mobile version of the page
We have much more interesting information on this site.
Click MENU to check it out!
∎ cartalana.com© 2013-2018 ∎ mailto: koshka@cartalana.org