SITE MENU
Use search function please. All the info found with Ł - refers to this site
Rights Reserved - Free Access.
This digital object is protected by copyright and/or related rights. This digital object is accessible without charge, but its use is subject to written permission.
Unless expressly stated otherwise in the licensing conditions, you are free to make any of the acts permitted by your national copyright and related rights act, including browsing, printing and making a copy for your own personal purposes.
All other acts of reproduction and communication to the public are subject to the licensing conditions attached to the digital object.
ARMY BOOTS OF THE WORLD. REVIEWS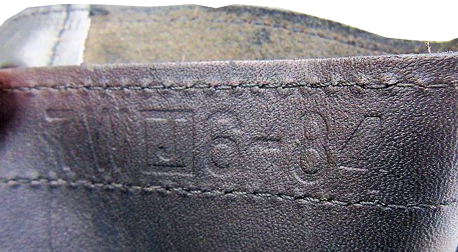 Figure 7
On the Figure 7 one can see an example of stamping for "Boots, Combat, Direct Molded Sole":

"7 W /J/ 6-86" means:
- Size 7,
- Wide width,
- "J" is the code of Contractor-manufacturer ("Belleville Boot Company")
Figure 8
- former "Belleville Shoe Manufacturing Co.", located in Belleville, Illinois);
- Manufacturing date - June 1986".
Another examples of stamping for these boots by "J" (Belleville): 6 W /J/ 9-89 and 13 XN /J/ 8-87, that means, correspondingly, sizes 6 Wide and 13 Extra Narrow, manufactured in September 1989 and August 1987.

Figure 9

Figure 10
The National Stock Numbers (NSN) for these boots were: 8430-00-782-3131 and 8430-01-030-2147.
Although these boots were copied (more or less exactly) by the Armed Forces of such countries as Israel, Norway and Greece, the users of these boots revealed some weak points:
- too thin but rigid out-sole (uncomfortable for long walks);
- shallow "chevron"-type tread pattern provided not the best adherence with most surfaces;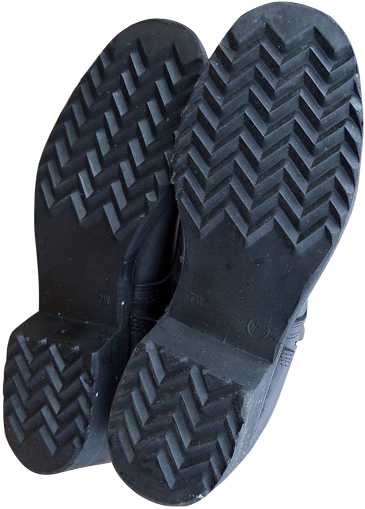 Figure 11
- absence of soft padding "collar" on top, preventing the ingress of water, dust and small pebbles inside the boots;
- the boot's tongue was not stitched high to the boot's top, so the upper half of the lacing was not protected from water ingress;
- the lacing system was conventional, with simple round eyelets, not "speed-lace".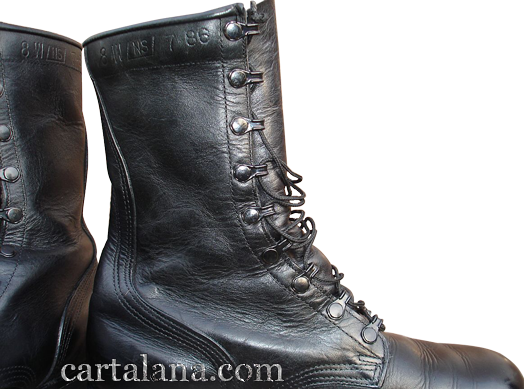 Figure 12
All these matters were improved in the framework of new military specification MIL-B-44152 of October 30, 1984 for the so called "Boots, Combat; Mildew & Water Resistant, Direct Molded Sole". These boots were developed in the beginning of 1980s by the famous American "Natick Lab" (Research, Development and Engineering Center, located in Natick, Massachusetts), according to US Army and US Marine Corps demands and requirements.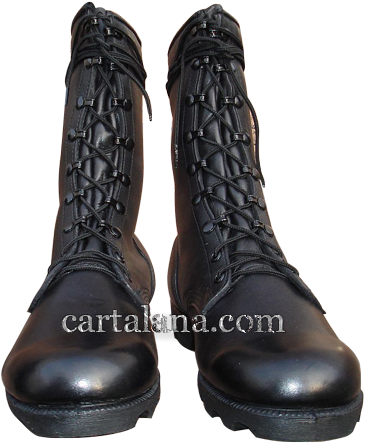 Figure 13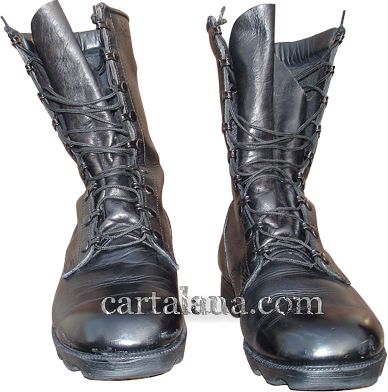 Figure 14
The early boots made by the specification MIL-B-44152 featured separately attached out-soles and heels: the sole was direct molded to the upper, and the heels were glued to the soles. On May 28, 1993 the specification was revised, and according to Rev C (Revision C, i.e. MIL-B-44152C) the boots already featured one-piece sole and heel, direct molded to the upper. The lacing system was modified as well.

Exclusively for cartalana.com


/ page 136 from 204 /

mobile version of the page
We have much more interesting information on this site.
Click MENU to check it out!
∎ cartalana.com© 2013-2018 ∎ mailto: koshka@cartalana.org