SITE MENU
Use search function please. All the info found with Ł - refers to this site
Rights Reserved - Free Access.
This digital object is protected by copyright and/or related rights. This digital object is accessible without charge, but its use is subject to written permission.
Unless expressly stated otherwise in the licensing conditions, you are free to make any of the acts permitted by your national copyright and related rights act, including browsing, printing and making a copy for your own personal purposes.
All other acts of reproduction and communication to the public are subject to the licensing conditions attached to the digital object.
ARMY BOOTS OF THE WORLD. REVIEWS
Further on, since the beginning of the 1960s, they began using the out-sole with tread pattern of the Polish design. At the same time they got rid of additional leather layer on the toe caps. The two main colours of the Polish military boots (black and brown) can vary in shades, in colour of the inner leather lining (more or less light or dark), and by the details of the manufacturer's marking on the out-soles.
The colour of the Polish military boots served as an additional identifier of a certain soldier belonging to a branch of the Polish Armed Forces: brown "opinacze" were issued to the army troops (ground troops and paratroopers, infantry and tank crews), while the black boots were provided to the Air Force and Air Defence Forces, to the Navy and the Marines.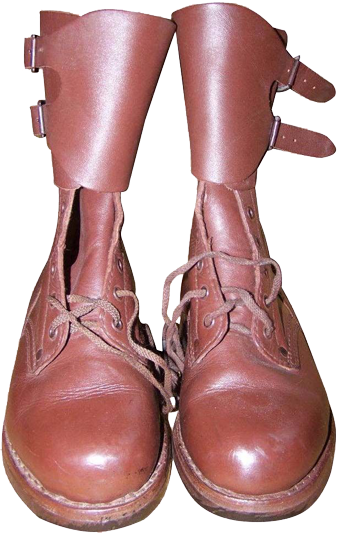 Regardless of the colour of boots, they are distinguished by the carefully made leather with a hydrophobic impregnation, which was much more soft and comfortable compared with the French military boots "Rangers"; the lacing system consisted of five pairs of simple round eyelets, leather cuffs with two buckles on each were stitched to the top of the boots.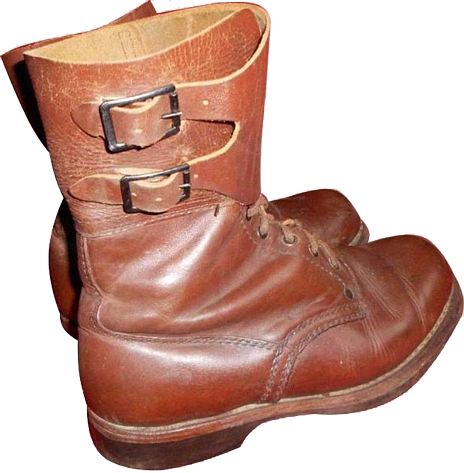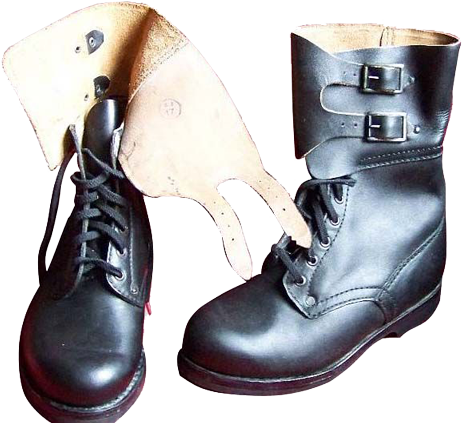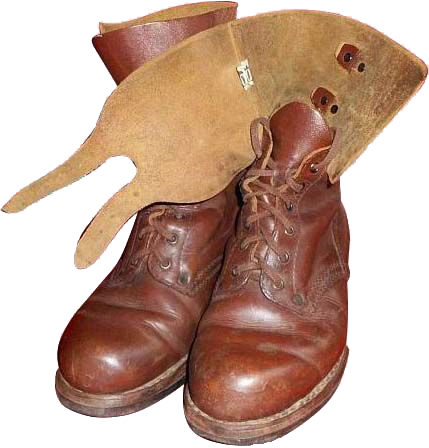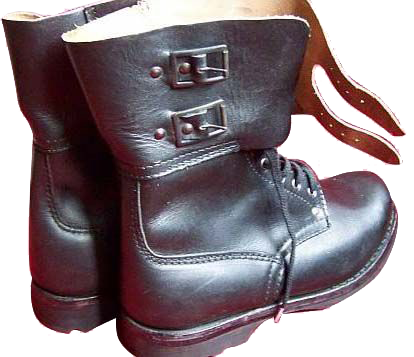 The boots design was reinforced by a pair of rivets at the bottom of the lacing system. These boots are glued and stitched by "Goodyear welt construction", solid rubber out-sole, often reinforced with boot nails.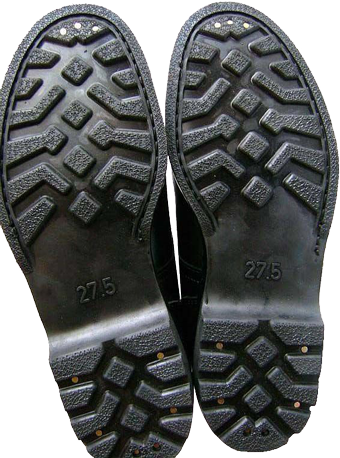 The Polish army boots of "opinacze" type were produced both with the conventional rubber out-soles and with oil and gasoline-resistant out-soles (the last was intended specially for the personnel of tank and motorized troops). There was also a version of such specialized boots for special forces, they differed with the forms of buckles on boots, they also were characterized by an increased height and improved overall design.
However, there were no separate military boots for the officers and the soldiers of the Polish Armed Forces.
"Opinacze" of this types had no leather lining inside the boots, except for the lower part of the boot up to the level of the malleolus bones of the feet. These boots are quite comfortable in terms of wear, they also provide good fixation of the ankle and protection from potential injuries and sprains.
Exclusively for cartalana.com


/ page 73 from 204 /

mobile version of the page
We have much more interesting information on this site.
Click MENU to check it out!
∎ cartalana.com© 2013-2018 ∎ mailto: koshka@cartalana.org