SITE MENU
Use search function please. All the info found with Ł - refers to this site
Rights Reserved - Free Access.
This digital object is protected by copyright and/or related rights. This digital object is accessible without charge, but its use is subject to written permission.
Unless expressly stated otherwise in the licensing conditions, you are free to make any of the acts permitted by your national copyright and related rights act, including browsing, printing and making a copy for your own personal purposes.
All other acts of reproduction and communication to the public are subject to the licensing conditions attached to the digital object.
ARMY BOOTS OF THE WORLD. REVIEWS
Swedish Military Rubber Boots Model M/90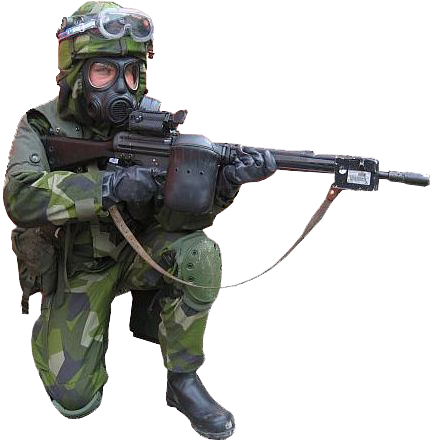 Just as the Armed Forces of the neighboring Finland, the Swedish Army uses high rubber boots as one of the main types of military footwear. This decision is justified because the climate and nature of the eastern part of Sweden and of the western part of Finland are practically the same, and there are many lakes and swamps there.

The model of high rubber boots, currently used by the Swedish military, was introduced in 1990 as part of the new M/90 uniforms. The tread pattern and shape of the soles of the M/90 rubber boots are completely identical to the M/90 marching and winter boots, and all these kinds of military footwear are designed for skis fixation. The main manufacturers and suppliers of the rubber boots for the Swedish Armed Forces are "Nokia Footwear Ltd." (the Finnish company) and "Acton International Inc." (the Canadian company).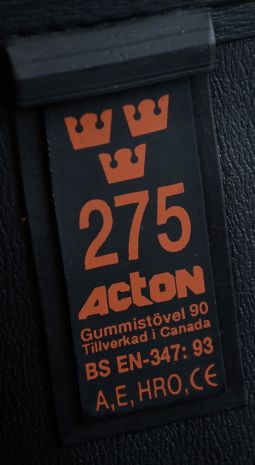 "Acton" was founded in 1928 by Alfred Lambert, a businessman from Quebec. The company specialized in various kinds of rubber boots manufacturing for the army, police, firefighters, miners and industrial workers. The name comes from the town of Acton Vale in the Province of Quebec. In 2004, "Acton" was incorporated into "Regence Footwear Inc." company.
The design of model M/90 rubber boots is shown in Figure: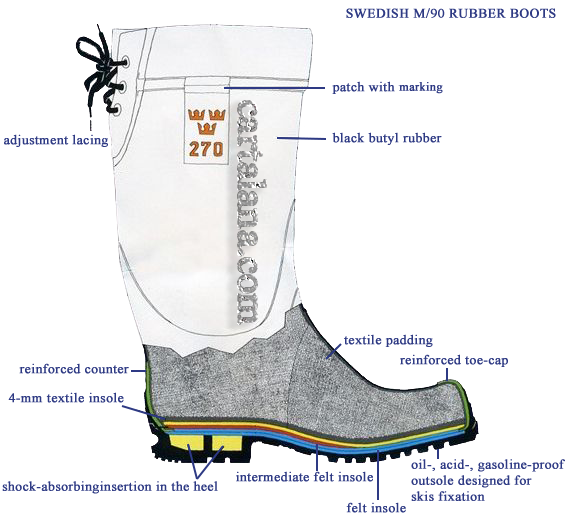 - The top ois made of laminated black butyl rubber, resistant to low temperatures;
- Oil-, acid- and petrol-resistant elastic rubber out-sole with ribbed welt for ski bindings;
- Reinforced toe and counter, i.e. plastic toe-cup and plate respectively;
- The heels feature shock- absorbing insertions of foamed polyurethane;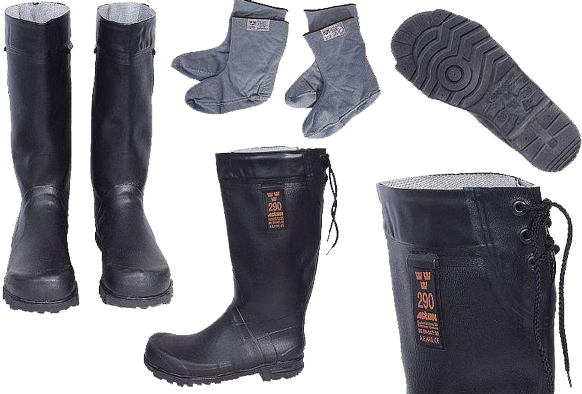 - Inside the boots there are non-removable felt insole and two removable insoles (felt and textile insoles of 4 mm thickness);
- Removable textile "sock" - thermal insulation liner;
- The top rear side features lacing for width adjustment plus folding flap for easy boots putting on;
- The outer surfaces of each boot's side show rubber patches with military marking.

Exclusively for cartalana.com


/ page 36 from 204 /

mobile version of the page
We have much more interesting information on this site.
Click MENU to check it out!
∎ cartalana.com© 2013-2018 ∎ mailto: koshka@cartalana.org