SITE MENU
Use search function please. All the info found with Ł - refers to this site
ANTONY PRESTON, JOHN BATCHELOR
THE SUBMARINE SINCE 1919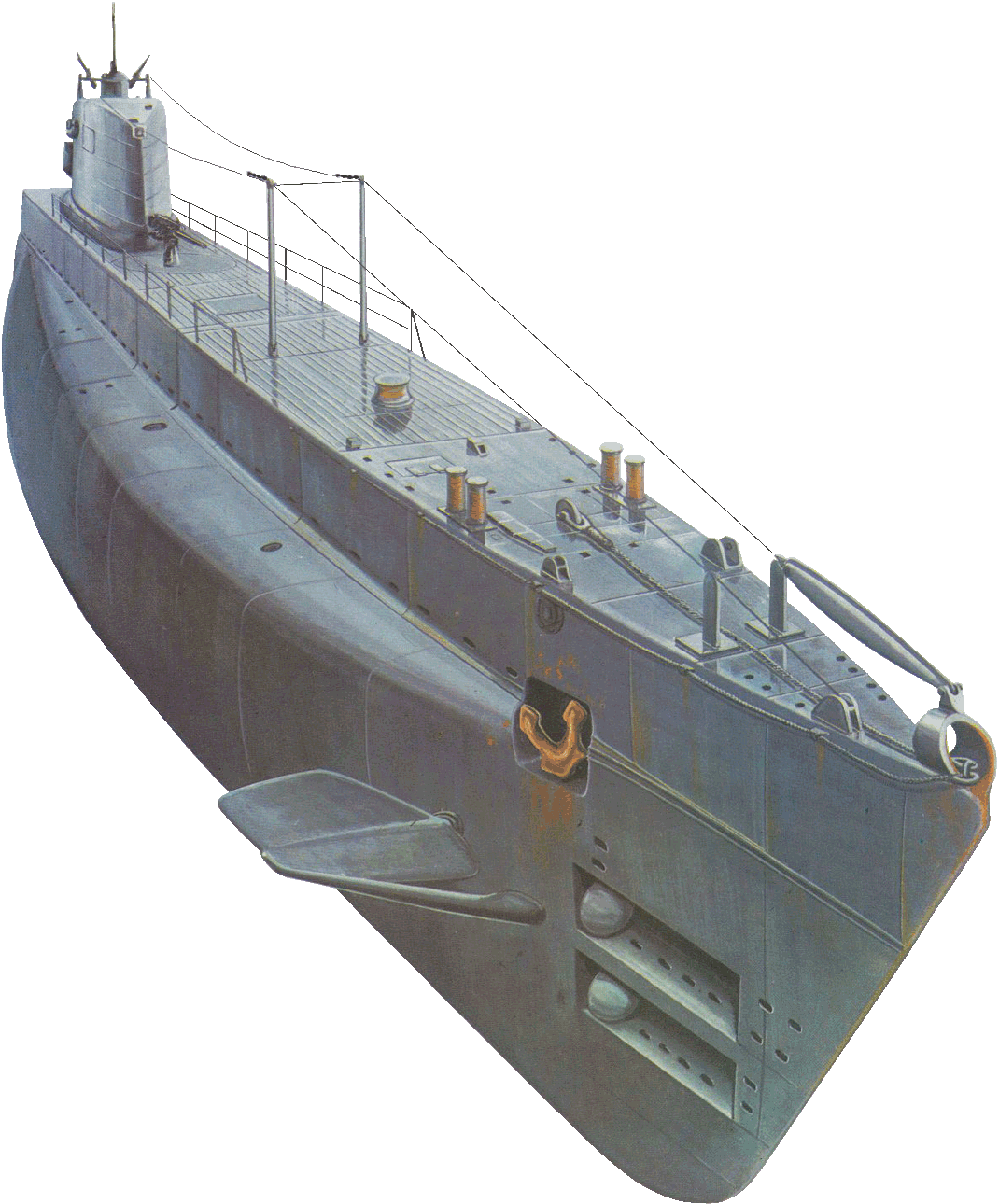 French Rubis. The French Navy ordered ten minelaying submarines between 1925 and 1939. The Rubis was operating under British control at the fall of France in 1940, and, under the Free French flag she carried out over twenty successful minelaying trips between 1940 and 1945. Her sister Perle survived to be sunk in error by an Allied aircraft in 1944, but the rest were either scuttled incomplete or captured in a wrecked condition in 1942 by the Germans
The surface speed was 18 knots to allow them to operate with surface units, and 13 numbered units were commissioned between 1940 and 1942. As the numbers ran as high as K51 it must be assumed that a large number were not completed during the War. They could dive in 50 seconds, a good time for a large boat.
When Hitler gave the order to attack Russia in 1941, this was the approximate strength of the Red Fleet:
Baltic
7 "K" Class (K24, K57-56) - some building
3 "P" Class (P1-3)
13 "S" Class (S1-13)
4 "L" Class (L1-3, L21)
1 "D" Class (D2)
1 L55
5 "B" Class (B2, B4-6, B8)
22 "Shch" Class (Shch 301-11, 317-320, 322-324, 405-408)
22 "Malyutka" Class
Far East
4 "S" Class (S52-53, S57-58)
12 "L" Class (L7-14, L16-19)
41 "Shch" Class (Shch 101-141)
30 "Malyutka" Class
Arctic
6 "K" Class (K21-23, K1-3)
12 "S" Class (S14-16, S19, S51, S54-56, S101-104)
3 "L" Class (L15, L20, L22)
2 "D" Class (D1, D3)
8 "Shch" Class (Shch 401-404, 421-424)
17 "Malyutka" Class
Black Sea
8 "S" Class (S31-38)
6 "L" Class (L4-6, L23-25)
3 "D" Class (D4-6)
5 "A" Class (Al-5)
16 "Shch" Class (Shch 201-216)
28 "Malyutka" Class
In addition to these submarines, of which some were still under construction, the Russians took over four boats as a result of their "liberation" of the independent Baltic republics in 1940, but of these only the ex-Estonian Kalev and Lembit were commissioned as Red Fleet units. They were British-built, and rather similar to the British "P" Class. In 1944 the British Government transferred four submarines under Lend-Lease for use in the Arctic; these were the V1 (ex-HMS Sunfish) and V2-4 (ex-Unbroken, Unison and Ursula). In one respect the Russian submarine service was unique in that it assigned numbers according to the Fleet in which the submarines were serving. The two large numbered classes, the "Shch" and "Malyutka" types seem to have changed numbers when transferred from, say, the Baltic to the Arctic. Thus Shch 101-141 served in the Far East, but Shch 201-216 served in the Black Sea, and when a permanent transfer was made the number seems to have changed as well.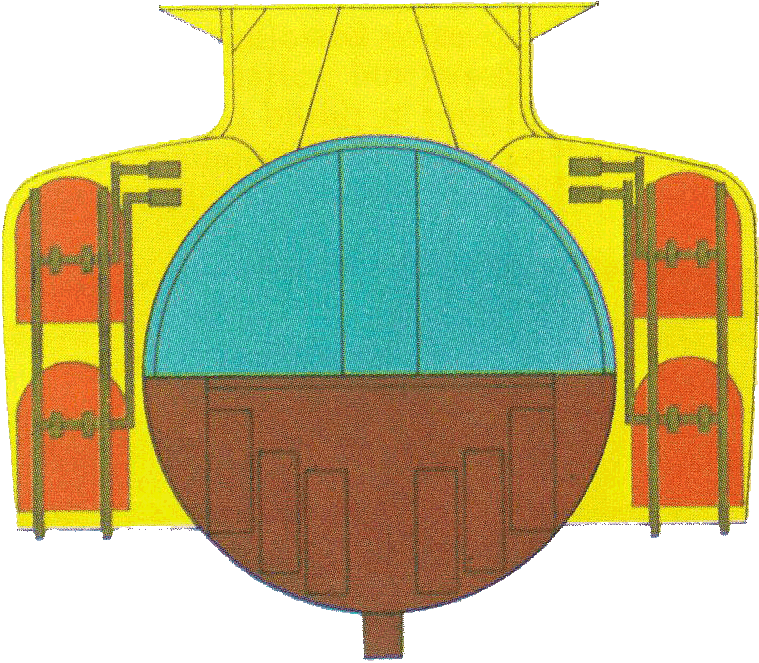 Normand-Fenaux Minelaying System. The Saphir Class used a system derived from the British method first used in the "E" Class in 1915. Eight wells on each side, in the saddle tanks, held two mines stowed vertically. The mines were armed and set mechanically from within the pressure hull, and the loss of weight was automatically compensated for. The supply of French Sauter-Harle mines soon gave out, but by a stroke of good luck Vickers were producing a mine of almost identical pattern for Rumania in 1939, and this was easily adapted
After their attempts to ban the submarine at the Washington Conference, the British settled down to serious submarine construction in 1923. The L52 Class of 1917 was chosen as the model, and the "O" Class which resulted was longer and beamier but carried the same heavy bow salvo of six 21-in tubes and two stern tubes. A drop in surface speed of two knots to 15.5 knots was more than compensated for a much increased endurance, and a reload was provided for each tube in order to extend the operating time. One unfortunate feature was introduced as a result of economy: because the dimensions were restricted, some or the fuel tanks had to be carried in the upper half of the saddle tanks. As it was virtually impossible in a riveted hull to have an oil-tight seam these external tanks tended to give away the submarine's position by leaving a tell-tale oil slick on the surface.


/ page 7 from 36 /

mobile version of the page
We have much more interesting information on this site.
Click MENU to check it out!
∎ cartalana.com© 2013-2019 ∎ mailto: koshka@cartalana.org